Investment Clock
In this section you'll find the latest Investment Clock views and positioning, Investment Clock insights and blogs, and a library of economic updates from the multi asset team.
Investment clock positioning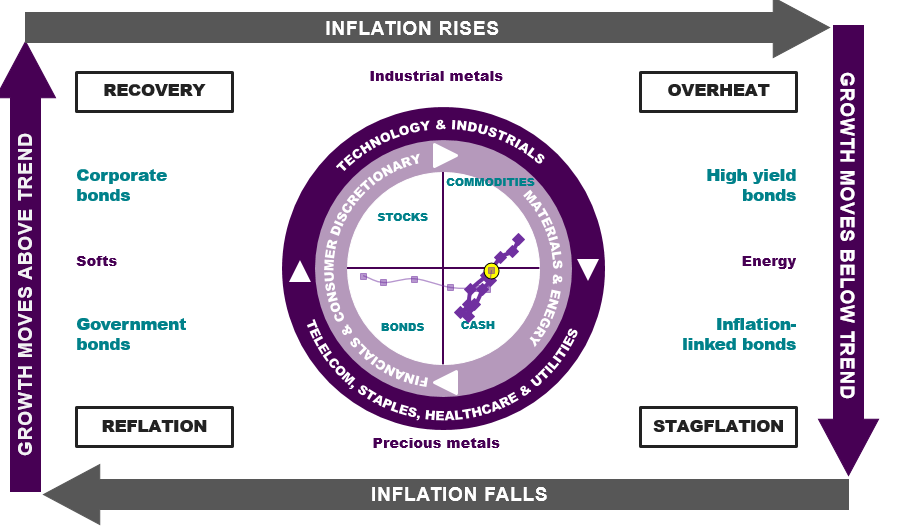 As at June 2022. Source: RLAM. For illustrative purposes only. Trails show monthly readings based on global growth and inflation indicators. Yellow dot is the current reading. Faint trail represents a positive scenario for future readings taking the corona virus impact into account.
Geopolitical tensions add to inflation pressure
Rising geopolitical tensions have added to volatile trading conditions so far this year. Stock markets have fallen while commodities have surged to fresh highs. Bond markets have also struggled; as investors braced themselves for tighter monetary policy bond markets experienced their worst quarterly performance since 1980.

An inflationary boom-bust?
Growth is slowing after the Covid recovery boom and inflation is at a multi decade high. The Investment Clock is on the edge of Stagflation and stocks could face headwinds as global growth continues to struggle over the rest of the year. Rising central bank rates and a high oil price raise the risk of recession going into 2023.

What can investors do to manage business cycle risks?
We opt for broad diversification in our multi asset funds, including real assets like property and commodities. We also use robust tactical asset allocation to alter exposures as the cycle evolves.


Past performance is not a guide to future performance. The value of investments and any income from them may go down as well as up and is not guaranteed. Investors may not get back the amount invested. Portfolio characteristics and holdings are subject to change without notice. The views expressed are those of the author at the date of publication unless otherwise indicated, which are subject to change, and is not investment advice.