Investment Clock
In this section you'll find the latest Investment Clock views and positioning, Investment Clock insights and blogs, and a library of economic updates from the multi asset team.
Investment clock positioning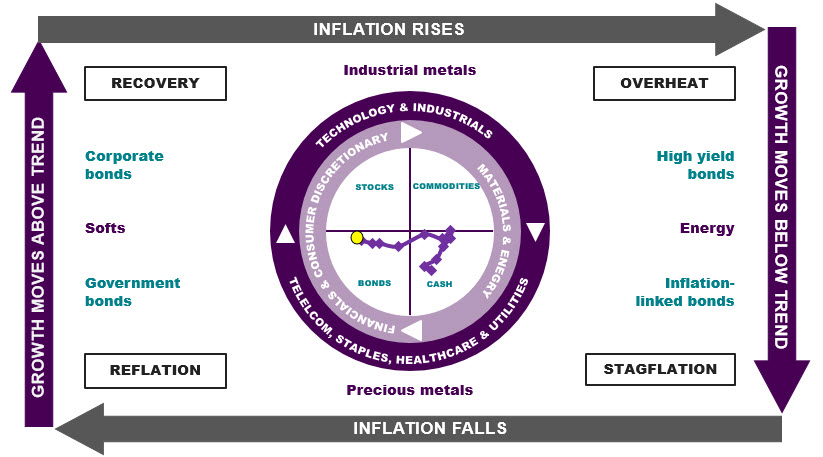 As at January 2023. Source: RLAM. For illustrative purposes only. Trail shows monthly readings based on global growth and inflation indicators. Yellow dot is the current reading.
A painful year for balanced funds
The poor performance of both stocks and bonds over 2022 wasn't a random event. It reflected a valuation shift to factor in significantly higher inflation and interest rates. Losses suffered by 'low risk' balanced funds raise questions about diversification and resilience.
No such thing as passive multi asset
The strategic mix for a multi asset fund is an active choice. We build resilience by including real assets like property, inflation hedges like commodities and by holding less in fixed income when yields are too low. Meanwhile, active tactical asset allocation is more important than ever in short business cycles.
Markets not priced for recession
As the Investment Clock moves into Reflation we see downside in commodities and better returns from government bonds. Stocks should get some valuation support, but a prolonged earnings-led phase of bear market could still lie ahead.
Commentary as at January 2023. Past performance is not a guide to future performance. The value of investments and any income from them may go down as well as up and is not guaranteed. Investors may not get back the amount invested. Portfolio characteristics and holdings are subject to change without notice. The views expressed are those of the author at the date of publication unless otherwise indicated, which are subject to change, and is not investment advice.