Investment Clock
In this section you'll find the latest Investment Clock views and positioning, Investment Clock insights and blogs, and a library of economic updates from the multi asset team.
Investment clock positioning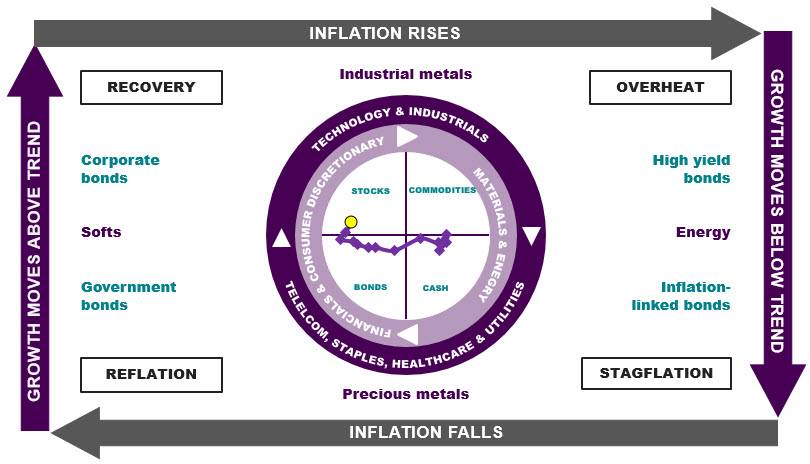 As at May 2023. Source: RLAM. For illustrative purposes only. Trail shows monthly readings based on global growth and inflation indicators. Yellow dot is the current reading.
The strategic asset mix is an active choice
We build resilience by diversifying broadly, including real assets like global equities and property, inflation hedges like commodities and by holding less in fixed income when yields are low. We review the mix regularly to maintain appropriate risk levels, to include new asset classes and to optimise exposures for the medium term outlook.
New SAA: Adding to bonds and increasing global diversification
In the current review, we are reacting to the higher level of yields on offer by increasing bond exposure. We are also enhancing diversification by moving some UK equity and property exposure into global equities and by adding an element of global bond exposure.
Active management for short business cycles
We see a new regime characterised by periodic spikes in inflation and short boom-bust cycles. The Investment Clock has moved into Recovery, with lower energy prices and Chinese re-opening helping growth to pick up as inflation drops. This makes us positive on stocks, but in the absence of a dramatic fall in core inflation, further rate hikes and credit tightening are likely, ultimately, to push economies into recession, making defensive positioning necessary.
Commentary as at May 2023. Past performance is not a guide to future performance. The value of investments and any income from them may go down as well as up and is not guaranteed. Investors may not get back the amount invested. Portfolio characteristics and holdings are subject to change without notice. The views expressed are those of the author at the date of publication unless otherwise indicated, which are subject to change, and is not investment advice.