Multi Asset fund range
The Royal London GMAPs or 'Global Multi Asset Portfolios' are Royal London Asset Management's range of 'on-platform' multi asset funds, launched in 2016 for ISAs, GIAs and SIPPs.
The funds cover a broad range of asset types and are designed to offer investors diversified exposure to these in line with their investment objectives and appetite for risk.
The range is comprised of six actively managed, diversified multi asset funds. They are all constructed using a risk based approach with the aim of maximising real return over the medium to long term subject to a given level of expected risk. The funds are managed in line with strategic benchmarks which have been designed in consultation with Moody's. The funds primarily invest in Royal London Asset Management funds, with exposure to other schemes managed by third parties.
MAST ('Multi Asset Strategies Fund') is part of the GMAP family but managed on an absolute return basis. The Fund seeks to achieve returns in excess of cash (cash+4%) while managing volatility and downside risk through diversified multi asset strategies. MAST is an unleveraged portfolio, long only at the asset class level and it uses the same Tactical Asset Allocation process as the GMAPs. MAST applies a volatility capping process in order to limit downside risk in turbulent markets and has the ability to go to 100% cash if deemed necessary to protect capital.
The GMAP fund range
The range includes one fund investing solely in cash and bonds from across the fixed interest universe globally – the RL GMAP Conservative Fund, as well as another comprised only of equity investments from a range of sectors across the globe – the RL GMAP Dynamic Fund. While these two outliers do not include the same level of diversification by asset class, they are aimed at offering investors with lower and higher appetites for risk respectively, exposure to a wide range of assets from across the underlying funds held.
Across the Dynamic Fund, regional and sector exposure will be actively managed while the Conservative Fund will have allocation to government, investment grade, and unrated bonds adjusted by the manager. These funds will be managed in line with the investment and asset allocation process used across all of the GMAPs, offering more cautious and adventurous investors access to the team's expertise.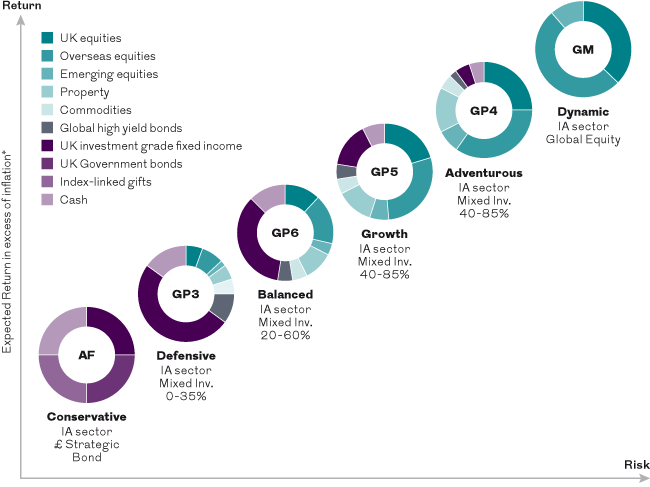 Past performance is not a reliable indicator of future results. The value of investments and the income from them is not guaranteed and may go down as well as up and investors may not get back the amount originally invested. For illustrative purposes – reflects Strategic Asset Allocation weightings, may vary in accordance with tactical asset allocation. Label inside each chart denotes RL Governed Range equivalent. Inflation as measured by the Consumer Price Index (CPI).
Multi asset funds - find out more
Comprehensive information on each of the multi asset funds can be found within our fund centre. Use the link below to view.
Royal London Multi Asset Strategies