Geopolitical risk dominated headlines last week as the tragic situation unfolded in the Middle East. So far, market reactions have largely been relatively muted beyond moderate rises in commodity prices and a small pick-up in volatility in equity and fixed income markets.
Investors, for now, have perhaps assigned a low probability to the risk of other countries getting drawn in and causing further disruptions in the oil supplies, but the situation is rapidly developing and needs careful monitoring. It is possible that the markets may be under-pricing risk and it may be sensible to be more positive on commodities and be cautious around equities at this time.
Against the backdrop of heightened geopolitical risk, we're going into the corporate reporting season. Our global growth scorecard has deteriorated over recent months, and this has led to a pause in the recovery in the earnings picture (chart 1); making this earnings season an important one to pay attention to.
In particular, the earnings and the guidance of the US technology companies will be of interest to many. US growth stocks can be sensitive to rising real yields – as we saw in 2022 – as higher yields impact their valuation. However, this year, rising real yields have not acted as such a headwind, and US technology companies have continued to outperform due to their earnings expectations being supported by resilient consumers and by the potential of artificial intelligence (chart 2). Given a less positive macro backdrop, we think it may make sense to be a little more cautious on US technology stocks for now.
Chart 1: Earnings revisions ratio and Global Growth Scorecard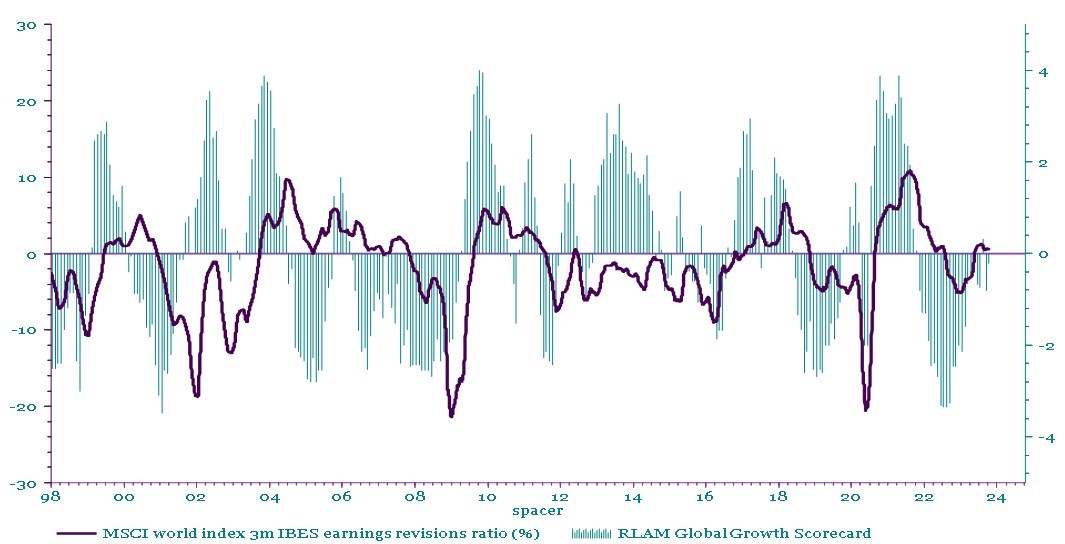 Source: LSEG Datastream as at 05/10/2023
Chart 2: Tech stocks relative performance and UST yields (inverted)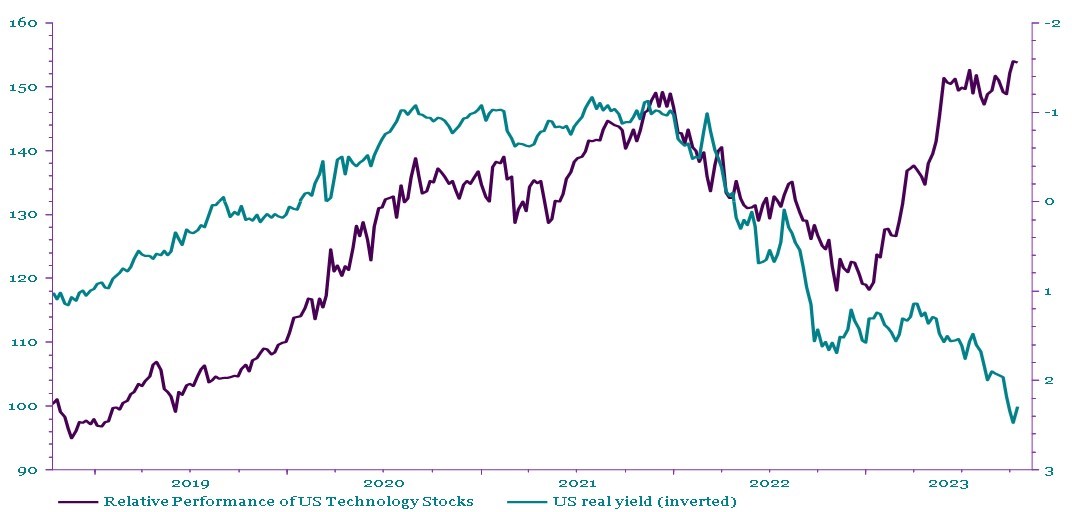 Source: LSEG Datastream as at 13/10/2023
This is a financial promotion and is not investment advice. Past performance is not a guide to future performance. The value of investments and any income from them may go down as well as up and is not guaranteed. Investors may not get back the amount invested. Portfolio characteristics and holdings are subject to change without notice. The views expressed are those of the author at the date of publication unless otherwise indicated, which are subject to change, and is not investment advice.