Discover the Royal London Sustainable Growth Fund.
RLAM has a range of eight sustainable funds. There are two fixed income funds and two equity funds – each offering a UK and Global version – as well as four multi asset funds. The RL Sustainable Growth Fund is the latest addition, as the fourth multi asset fund in the range. These funds provide investors with a choice of investments mapped against potential risk and returns.
Key points
An investment universe highly diversified by geography, sector and asset class.
Globally diversified portfolio aiming to find attractive companies that offer a net benefit to society or are leaders in Environmental, Social and Governance (ESG).
Collaboration across our experienced investment teams.
Sustainable investment expertise, supported by an independent External Advisory Committee.
Established and proven process – our sustainable process has evolved over time making RLAM one of the longest established sustainable asset managers.
Works alongside other funds in our proven Sustainable range to provide a choice of risk / return profiles for your clients.
Illustration shows how the RL Sustainable Growth Fund complements and extends our existing sustainable fund range.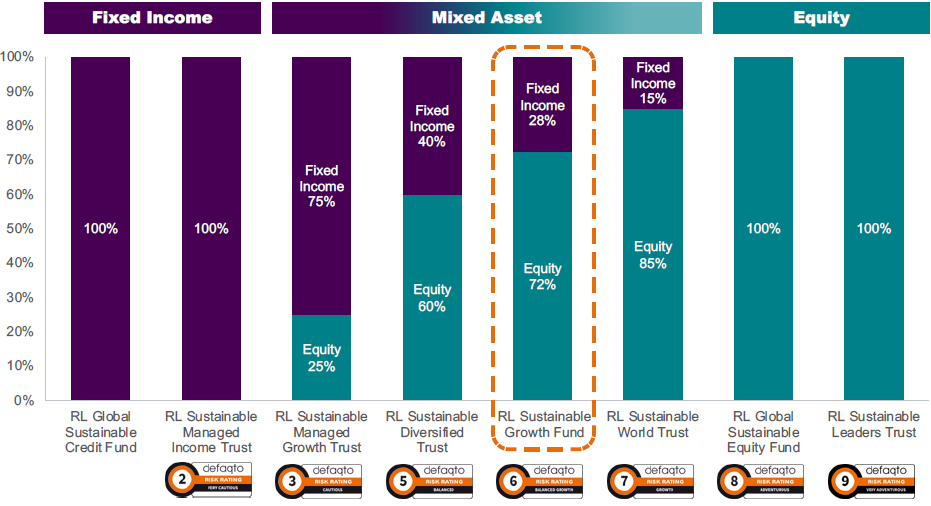 Investment focus
Launched on 24 May 2022, the RL Sustainable Growth Fund is the eighth fund in our sustainable range.
The fund's investment objective is to achieve capital growth over the medium term, which should be considered as a period of 3-5 years, by investing in a diverse range of equity and fixed income assets. Investments in the Fund will adhere to the Investment Manager's ethical and sustainable investment policy.
The fund's portfolio breakdown is approximately weighted to 72.5% in equities, 27.5% in fixed income, primarily invested in UK corporate bonds.
The fund invests in securities that are deemed to make a positive contribution to society.
Fund facts
Launch date
24 May 2022
Fund size (at launch)
£100 million
Sector
IA Mixed Investment 40%-85% Shares
Base currency
GBP
Minimum investment

Class M (GBP Acc) £100,000

Class Z (GBP Acc) £3,000,000

Fund management fee

Class M (GBP Acc) 0.77%

Class Z (GBP Acc) 0.62%

Source: RLAM as at 24 May 2022