Responsible property investment
At Royal London Asset Management our long-term investment approach, coupled with a relentless focus on maximising value, means that Responsible Property Investment (RPI) has become integral to our mindset.
Our RPI Strategy report details our commitments and achievements in embedding more ambitious environmental and social performance goals across our property investment portfolios.
Our RPI journey
Royal London Asset Management's commitment to RPI is built on strong foundations. We have operated an environmental policy since 2007 and aim to continually improve environmental performance.
Our achievements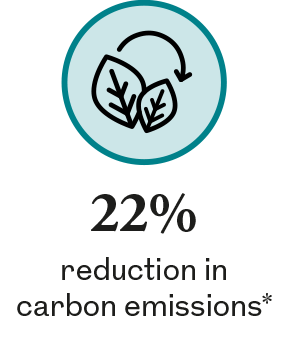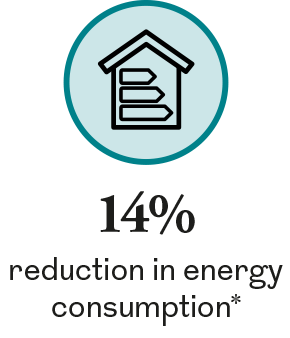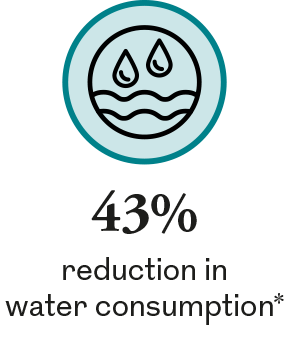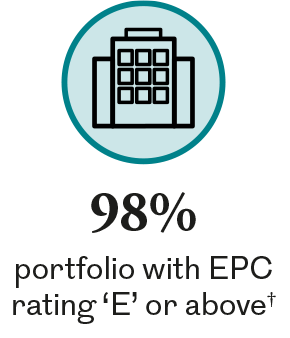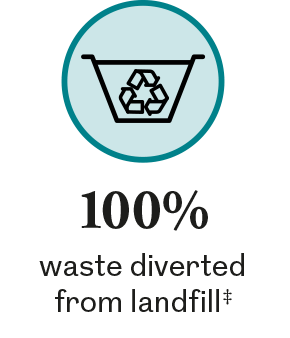 * Like-for-like changes 2019 v 2020
† As of July 2021
‡ Portfolio annual diversion rate
Our RPI framework and objectives
Our material issues
These are the foundation of our strategic framework and are applicable to the property life cycle and Royal London Asset Management Property at corporate level.
Transition to net zero carbon
Climate resilience, adaptation and risk mitigation
Safeguarding natural resources
Biodiversity and green infrastructure
Progress to a circular economy
Purposeful construction and placemaking
Sustainable transport and connectivity
Health, safety and wellbeing
Diversity and inclusivity
Building certification
Responsible decision-making
We have enhanced our capacity for responsible decision-making and transparency by developing our Net Zero Carbon pathway, implementing the recommendations of the Task Force on Climate-related Financial Disclosures (TCFD) and submitting our funds for external benchmarking through the Global Real Estate Sustainability Benchmark (GRESB).
Net zero carbon pathway
| | |
| --- | --- |
| | Royal London Asset Management has committed to achieving net zero carbon by 2030 for its directly managed assets and developments and 2040 for its indirectly managed assets. |
Task-force on Climate-related Financial Disclosures (TCFD)
| | |
| --- | --- |
| | The TCFD was created by the Financial Stability Board to encourage company disclosure of material climate-related risks and opportunities. The TCFD framework helps us put climate at the forefront of our investment thinking and decision-making. |
Global Real Estate Sustainability Benchmark (GRESB)
GRESB is a global benchmark rating system for the real estate industry. Environmental, social and governance (ESG) performance is assessed against seven sustainability aspects, including information on performance indicators, such as energy, carbon emissions, water and waste.
Our three property funds submitted data to GRESB in 2021 and performed very well. RLUKREF achieved a 4* rating and was ranked 5th place out of 79 funds within its peer group. RLPPF achieved a 3* rating and improved its ranking from 11th place out of 59 funds in 2020 to 7th place out of 79 in 2021 within its peer group. RLPF also achieved a 3* rating and improved its score from 69/100 in 2020 to 75/100 in 2021 and was ranked 17th place out of 79 within its peer group.
Investing in a resilient portfolio
We strive to ensure that the assets we invest in will fit the needs of occupiers and investors, now and in the future. We are also introducing procedures to evaluate asset sustainability performance post-acquisition and setting ambitious targets to achieve best-in-class environmental and social performance across our portfolios by 2030.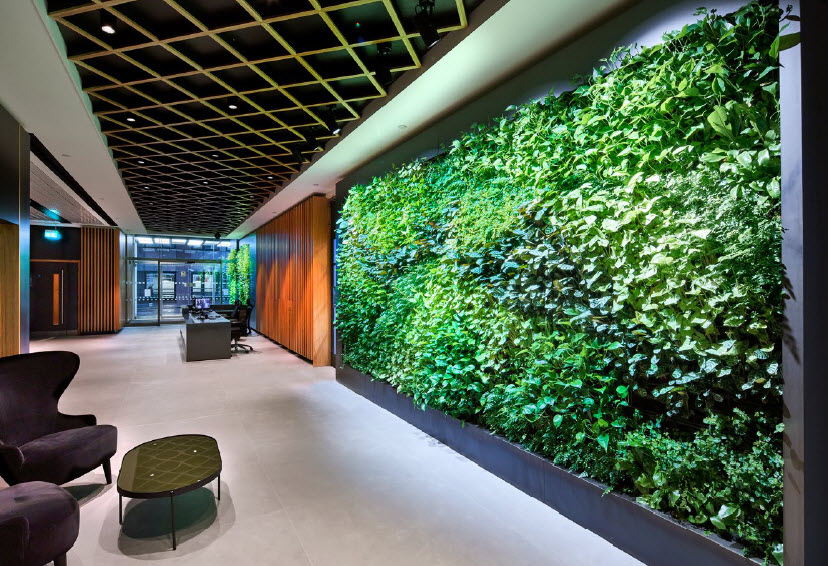 Case study: 10 Chiswell Street, London EC1
10 Chiswell Street, London, EC1 was acquired for the RLPPF in January 2020. A prime Grade A office building located to the north of the City Core, the property comprises 58,000 sq ft of net internal area (NIA) arranged over lower ground, ground and seven upper floors. The building has excellent existing transport links which will be further enhanced by the arrival of the Elizabeth Line (Crossrail).
Prior to acquisition we identified some deficiencies in the amenities and common parts areas of the building which were impacting on occupier satisfaction and rental levels, including the limited availability of bicycle storage, changing facilities and showers. It was therefore a priority post-acquisition to implement a series of asset management initiatives to reposition the asset and improve its performance.
Negotiations were concluded with the 6th floor occupier to surrender a car parking licence on the ground floor to free up storage space and allow a comprehensive reconfiguration to deliver end of journey facilities. This included new shower and changing areas, improved cycle storage and drying rooms.
Additionally, we undertook a comprehensive refurbishment of the reception area to create a higher quality and more welcoming entrance to complement the new 'CAT A Plus' offer and improve levels of satisfaction among existing occupiers.
This pro-active strategy produced a significant uplift in occupier enquiries which subsequently led to the letting in one of the few City leasing transactions that concluded during the first pandemic lockdown. A new lease was secured at £65 per sq ft which reflected pre-pandemic rental levels.
Since the acquisition we have maintained a dialogue with all occupiers in the building. Conversations with one occupier who occupies two floors resulted in them not implementing their break clause which increased the weighted average unexpired lease term significantly; improved the risk profile of the asset and also had a positive impact on the asset value.
Developing for the future
We aim to create thriving buildings and places which have enduring appeal for occupiers and add value to local communities. In 2020 we initiated a thorough review of our Development Sustainability Standards to ensure their ongoing fitness for purpose in the context of evolving global trends, in particular the drives to limit global warming in line with the Paris targets and halt the destruction of biodiversity and the natural environment.
This process led to the creation of a new set of standards which we consider to be both aspirational and market leading and enabled us to identify and prioritise nine key themes for our property development activity.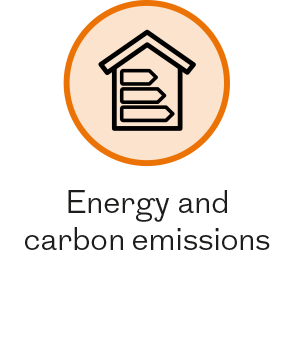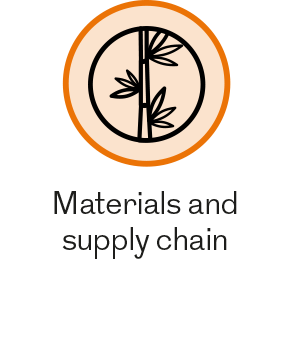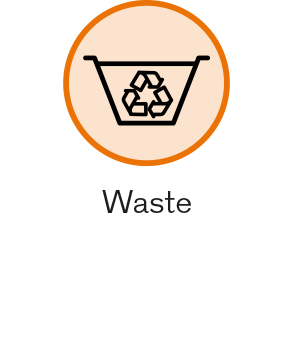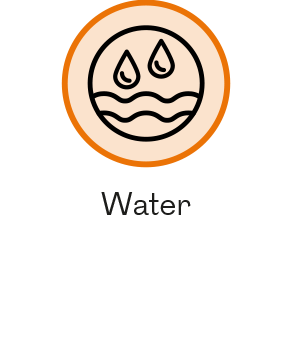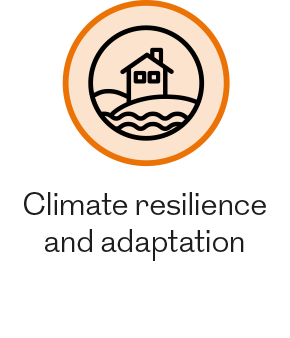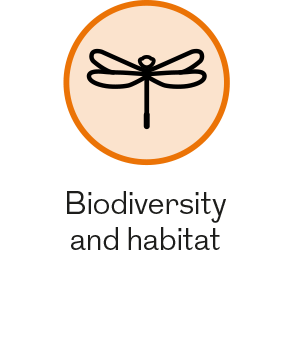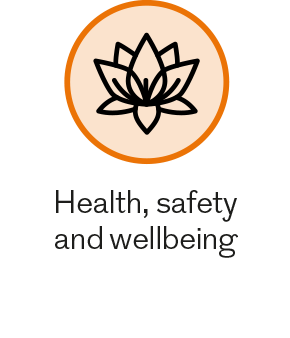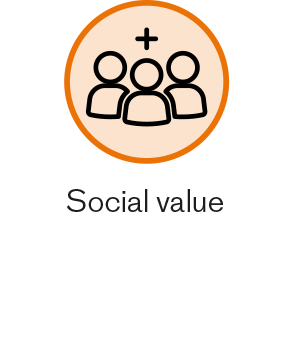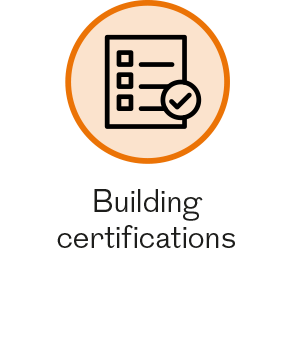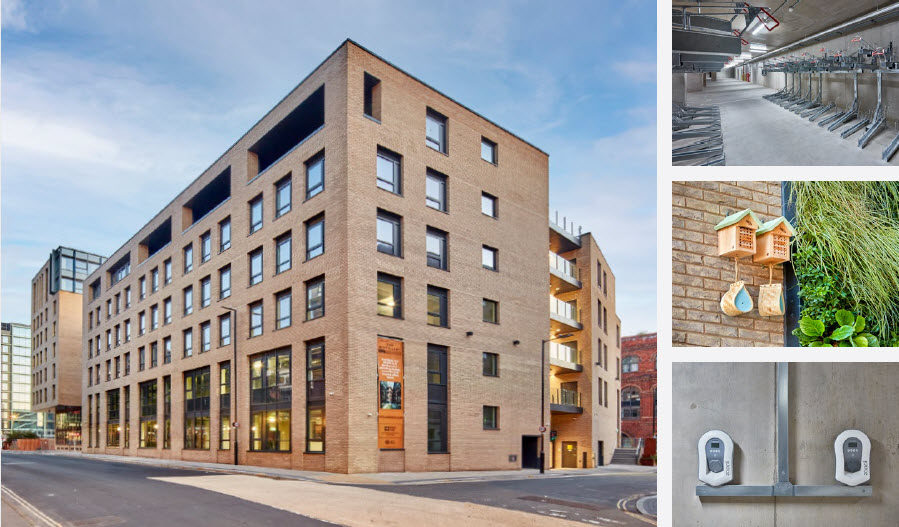 Case study: The Distillery, Bristol
The Distillery is a new completed office development comprising two buildings in Glassfields, Bristol. It has achieved all applicable property development standards in addition to an EPC 'A' rating and is currently finalising certification for a BREEAM (2014) 'Excellent' certification and a Fitwel 2* rating.
The Distillery, along with our Leonardo Royal Hotel development (also in Bristol) was one of our first projects to complete an embodied carbon study and whole life carbon emissions assessment during the construction stage, covering substructure, superstructure, façade, internal finishes and building services. The study showed that the embodied carbon of The Distillery A1-A5 (product sourcing and construction stage) is 469kgCO2/m2, which compares favourably to the LETI 2020 construction target of 600kgCO2/m2 for offices. Lower embodied carbon was partly achieved through the use of a 50% Ground Granulated Blast-furnace Slag (GGBS) mix in the substructure. GGBS is a by-product used as a cement replacement, and we calculated that on its own the carbon saving of using GGBS at a ratio of 25kgCO2/m2 was equivalent to the amount of emissions generated by 284 flights between London and New York!
To reduce CO2 emissions in operation, The Distillery has been designed to achieve a 20% improvement upon Building Regulations. A 288m2 rooftop array of solar photovoltaic (PV) panels has been installed, and passive design measures have been incorporated to reduce cooling demand and help reduce future overheating. CIBSE TM54 energy analysis demonstrates that energy performance in use will be in line with the BBP Good Practice Benchmark for offices.
The Distillery also boasts features which promote the health and wellbeing of both its human occupants and wildlife, such as a green 'living' wall, trees, bug and bee hotels and aesthetically pleasing interior design. Natural ventilation and separate heating and cooling systems for each floor provide additional occupier comfort and support COVID-19 prevention.
Case study: The Earnshaw, London
The Earnshaw (previously known as Castlewood House) is a new build mixed use office development in the West End of London, comprising 139,000 sq ft office space and 27,000 sq ft retail space.
The development is targeting best in class credentials in line with Royal London Asset Management Property's RPI strategy.
To deliver long-term resilience and carbon reduction, the development includes all electric building systems removing the need for gas powered plant and equipment and on-site solar PV for renewable electrical energy production. Royal London Asset Management's updated Property Development Sustainability Standards will be applied, with targets relating to energy, materials, waste, water, climate resilience, biodiversity, health, safety and wellbeing, and social value. Moreover, The Earnshaw will be designed to achieve BREEAM 'Outstanding' certification.
To enhance its appeal to occupiers, now and in the future, the building design provides additional safety and comfort in relation to COVID-19 with multiple individual WC cubicles; SMART technologies to allow circulation between floors and zones without the need to push or pull buttons and door handles, and improved fresh air ventilation rates exceeding current industry benchmarks. The WELL Building 'Gold' standard will be targeted to give occupiers added assurance of the high standards of health and wellbeing applied through the base build and fit-out.
Managing assets for positive impact
We manage over 250 assets held in our funds' portfolios. Working in partnership with our occupiers, managing agents and other local stakeholders, we aim to manage our assets in a way that delivers social value and positive environmental outcomes.
Going forwards, we will continue to prioritise the integration of energy efficiency improvements to reduce energy costs and carbon-related liabilities. We plan to agree an enhanced occupier engagement program to identify areas for closer collaboration with occupiers on sustainability aspects and share utilities consumption data.
We will also develop portfolio-wide strategies for biodiversity enhancement and social value creation to provide a consistent framework and guidance to encourage property managers to implement innovative practices in these areas.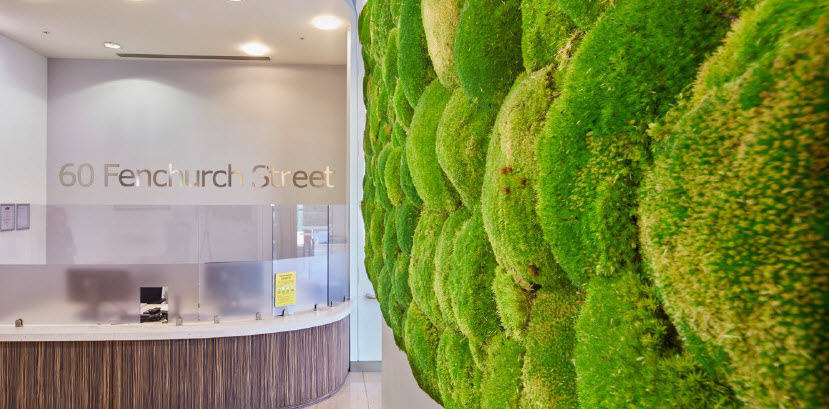 Case study: 60 Fenchurch Street
60 Fenchurch Street is a 12-storey tower located in the City of London that offers around 55,000 sq.ft. of Grade A office space. It provides accommodation to 7 tenants; consumes approximately 1.2 million kWh of energy and generates around 50.5 tonnes of waste per year.
Over the past couple of years we have implemented measures to reduce the environmental impact of the asset and enhance tenants' health and wellbeing.
By working closely with occupiers, cleaning and waste contractors we have been able to reduce waste production by 23% and increase the waste recycling rate to 75%. For us, it is vital that everyone in the building understands the impact of waste and what we can do to promote closed loop cycles, reducing waste to landfill and raw material extraction by prolonging the useful life of the products and packaging we use. We made sure that waste became a topic of discussion at every tenant meeting. We worked with cleaning teams to make sure that they knew how to correctly segregate all the different waste streams. We encouraged tenants to reduce the number of bins that they have per floor and educate their staff to use the coloured recycling bins. Furthermore, we installed both food waste recycling facilities and a rubber glove recycling point after we found that these waste streams were increasing the amount of non-recyclable waste produced. Rubber gloves are collected when deliveries of consumables are made, thereby reducing the need for additional collections.
We have also reduced utilities consumption through more efficient use of HVAC systems and water tanks and by carrying out a LED lighting retrofit on the 12-storey north side staircase and in roof and basement areas.
To promote the health and wellbeing of occupiers, a moss wall was installed within the reception area. Moss walls have been demonstrated to improve air quality and reduce noise, whilst the presence of greenery in an office setting has been found to reduce stress and increase productivity.
Case study: Cambridge Research Park
Cambridge Research Park is a multi-tenanted, self-contained community capable of providing office, laboratory, hi-tech and industrial accommodation. The quality of the park and its ability to support enterprise provides an unrivalled environment for business in Cambridge.
Sited within a 32-acre nature reserve which combines a wildlife lake, a willow wood and open grassland areas, Cambridge Research Park is a significant departure from a typical business or science park. The nature reserve has been preserved intact – as the natural habitat of resident species like golden oriels and great crested newts – and is open to anglers, photographers, and bird watchers.
To support the wildlife present on the site, we have been working with our service providers to exploit opportunities for biodiversity enhancement, besides taking actions to reduce the environmental impact of the physical assets to the benefit of investors, occupiers and wider society.
As a first step, we introduced a new planting scheme on the roundabout area at the site entrance, planting a selection of herbaceous perennials and grasses that are beneficial to pollinators, insects and birds and will provide a colourful display from spring through to autumn, adding to the visual appeal of the site.
Secondly, we are proceeding with the installation of 20 bird boxes which will be placed around the site in carefully selected locations to provide a nesting habitat for a variety of small birds. A third project involves the installation of a 3-bay composting bin which will allow the landscaping contractor to reduce the amount of green waste that is taken off site whilst providing a nutrient rich compost that can be used on the planted areas around the site.
We have been actively implementing our M&T programme within the Research Park's buildings, engaging with tenants and making adjustments to BMS settings, timings and set points in line with seasonal changes and occupancy trends. Such management initiatives enabled us to save £2,452 in energy costs in 2019. Furthermore, we have replaced both the chillers and boilers in two buildings, taking account of latest available technology and sustainability aspects to select new efficient plant which will reduce operating costs and environmental impact and improve indoor air quality.