Assessment of Value
Royal London Asset Management's Assessment of Value (AoV) reports cover all the funds we offer across our two UK fund companies, RLUTM and RLUM.
We believe it is important to evaluate our funds as we seek to meet our investment objectives and deliver the best client outcomes.
On an annual basis, we gather data on our funds and their competitors, take insight from our fund managers and compile our findings to create this annual report for investors.
We believe we have a responsibility to ensure that our funds are managed proficiently and that they deliver value for money. Responsibility for this ultimately lies with the Board of Directors of RLUTM and RLUM. Whilst this report is annual, we place importance in our continued delivery of value and have ongoing activity to ensure we are focused on providing the best outcomes for clients.
If you have any queries or feedback on the Royal London Asset Management AoV reports you can contact us at AssessmentOfValue@rlam.co.uk.
2023 reports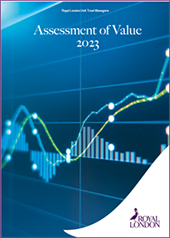 RLUTM Assessment of Value Report 2023
RLUTM Assessment of Value reports
RLUM Assessment of Value reports