Our story
Royal London Asset Management (RLAM) was set up in 1988 as an in-house asset management business for a relatively small mutual life insurance company. The following 30 years have seen both RLAM and its parent enjoy huge success to become significant parts of their relative sectors within the UK financial services industry.
RLAM is a unique asset manager: with a mutual ownership structure and managing around £159 billion of assets (as at end March 2022), RLAM has a long history of success, delivering key investment strategies in equity and bond investing for its clients.
That success is built on a culture of free, fresh and innovative thinking and investment strategy. That results in a measured, stable and independent approach to managing assets, which eschews fads, passing trends or a 'me too' take on investing. Our fund managers thoroughly understand the markets they invest in, which gives us the confidence to maintain non-consensus positions where we have strong opinions.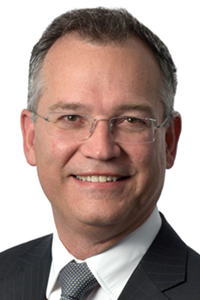 Hans Georgeson, CEO
CEO message
Chief Executive Officer, Hans Georgeson
"Trust is an essential element in our industry. Asset management companies play an essential role in creating the financial futures that people want – particularly in areas such as pensions. We recognise that trust has to be earned and maintained.
We do this in several ways. Of course, we look to provide excellent investment returns. We believe that generating performance relies on a number of factors – effective teams, with the right tools and resources, using judgement in a disciplined and transparent way. But we see performance as just one element that we need to look after.
We work in partnership with our clients to create and manage investments that help achieve financial goals. Those goals are now more challenging than ever. As well as navigating the complexities of modern investment markets and changing regulation, our clients expect us to not just produce the right results, but to do this in the right way.
One way you can see this is through our heritage and track record in responsible investing. RLAM has long been seen as a leader in this area, and we are committed to making sure that our culture and approach to responsible investing keep us at the head of the pack – partly because it is the right thing to do, but because we believe that this will ultimately give our clients better returns."
Corporate and Social Responsibility
At Royal London, the Corporate and Social Responsibility CSR programme supports our wider purpose – protecting today and investing in tomorrow. As a responsible company, and a mutual, creating a programme to support the communities in which we work was an obvious step.
Today we have more than 70 local CSR champions across the business to lead on local activity, and employees are given two volunteering days a year.
We have a number of initiatives that are run at a 'Group' level, such as a volunteering partnership with The Silver Line, where our people commit to talking to a lonely older person for 30 minutes once a week.
But as well as acting as part of the Royal London Group, RLAM has a number of local initiatives as well.
We have a local charity partner, The Food Chain, an organisation that provides vital groceries and hot meals for the most vulnerable people living with HIV in London.
We also work with the East London Business Alliance (ELBA), an organisation that helps build connections between businesses and communities in east London and beyond, to create a positive impact, strengthen communities and help tackle the issues that determine social mobility. Support for ELBA included a Women in Work day for BAME students and a Christmas Toy appeal.