Where are the yield opportunities in ethical bond investing?
In this webinar, Senior Fund Manager Eric Holt discusses his approach to responsible investing and the screening process used to identify and exclude certain securities from the portfolio. He outlines how the fund has delivered over the medium and long term and where he believes yield opportunities exist in the current environment.
Eric is joined by Beth Goldsmith, Responsible Investment Operations Manager, who explains how her team works with Eric to ensure ethical considerations are taken into account by bond issuers within the portfolio. Beth also shares some examples of recent activity.
Click on the image below to launch the webinar.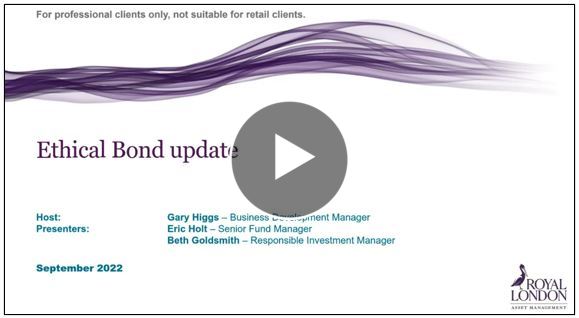 Recorded: 4 October 2022
Duration: 26 minutes
This is a financial promotion and is not investment advice. Past performance is not a guide to future performance. The value of investments and any income from them may go down as well as up and is not guaranteed. Investors may not get back the amount invested. Portfolio characteristics and holdings are subject to change without notice. The views expressed are those of the speaker at the date of publication unless otherwise indicated, which are subject to change, and is not investment advice.