Equity markets have continued to drift lower over recent weeks with the summer run into bull market territory now feeling a long way behind us.
Stock market volatility also rose last week, and the commonly used equity market volatility index (VIX) has now moved to its highest level since March. Equities have now fallen to their lowest levels since June following their third worst weekly loss of the year. However, the cause for this move lower is up for debate.
Geopolitics have dominated headlines as the situation worsens in the Middle East. The clearest market reaction to this heightened uncertainty so far has been in commodities rather than in stock markets, with oil and gold prices having surged in recent weeks (chart 1).
However, we think the main driver of higher equity market volatility may be the continued rise of bond yields, with US yields moving to their highest level since 2007 (chart 2). Resilience in economic data and hawkish commentary from the US Federal Reserve has led to fears that policy will remain tighter for longer than previously expected. It's worth noting higher bond yields can be a headwind to stock markets.
It is difficult to separate geopolitical events and policy expectations. The uncertain situation in the Middle East increases concerns around additional borrowing from the US government, while higher energy prices also lead to an increase in inflation expectations.
Chart 1: Commodity prices have surged in recent weeks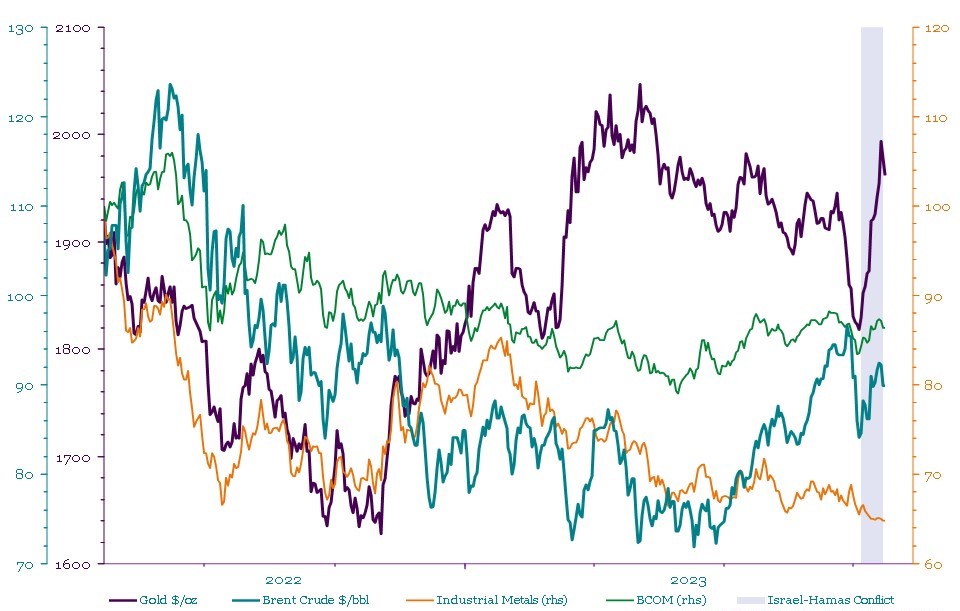 Source: LSEG Datastream as at 20/10/2023
Chart 2: Bond yields continue to rise globally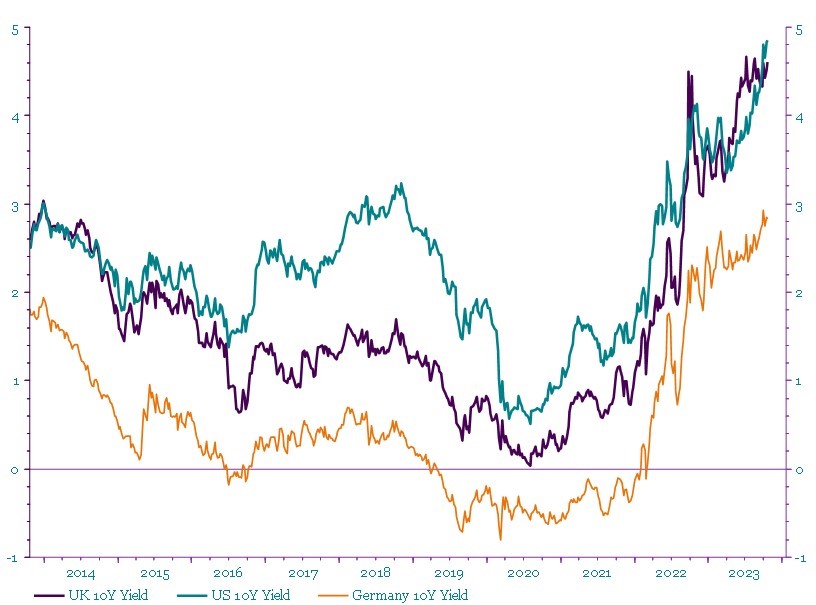 Source: LSEG Datastream as at 20/10/2023
This is a financial promotion and is not investment advice. Past performance is not a guide to future performance. The value of investments and any income from them may go down as well as up and is not guaranteed. Investors may not get back the amount invested. Portfolio characteristics and holdings are subject to change without notice. The views expressed are those of the author at the date of publication unless otherwise indicated, which are subject to change, and is not investment advice.