The December UK Consumer Price Index (CPI) came in higher than forecast at 5.4%Y after 5.1%Y (consensus was for 5.2%Y). That's the highest rate since the early 1990s. Core CPI was also higher than expected, rising to 4.2%Y from 4.0%Y (consensus: 3.9%Y), as was Retail Price Index (RPI) which jumped to 7.5%Y after 7.1%Y.
This is clearly now a very long way above the Bank of England's (BoE) 2% CPI target, with CPI already running well above the staff projection from November's Monetary Policy Report even before today's figures. Alongside robust labour market data yesterday, it is now hard to see them not hiking rates in February.
The main driver of the rise in CPI inflation came from food, accommodation services (hotels), furniture/household goods and clothing. Some of this will probably reflect supply chain problems. Some will also reflect distortions from the pandemic (potentially including the pattern of clothing discounting and the change in hotel prices compared to the previous year when tighter social distancing restrictions were being introduced).
Inflation driven by these things could still be described as at least partly transitory, and there were downward contributions to inflation too from transport and recreation/culture in December. Services inflation – which you'd normally expect to better reflect underlying domestically driven inflation pressure more cleanly – only rose a tenth in December and isn't at alarming levels.
However, with inflation surprising on the upside by so much, core inflation higher and the level of inflation at such a high level, it is hard not to see the BoE responding. The labour market data earlier this week were robust and such high inflation rates will give some Monetary Policy Committee (MPC) members cause to worry about the risks to inflation expectations.
UK inflation is widely expected to rise (sharply) higher with another jump in energy bills expected in April when Ofgem reset the energy price cap again. In the meantime, prospects of higher interest rates, high rates of inflation and pay growth that is not keeping pace means the financial situation of many households will be worsening.
UK: Headline, Core, Core Goods & Services Inflation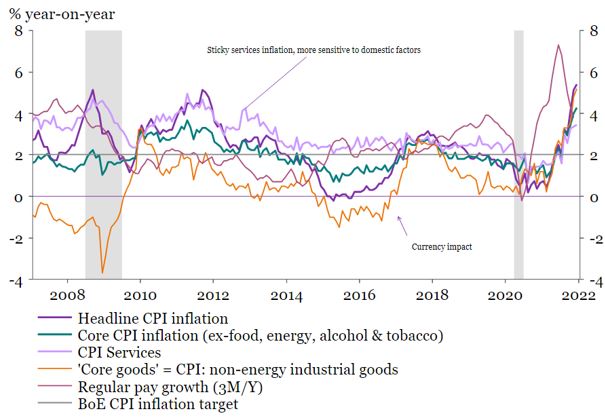 Source: Refinitiv Datastream as at 15/12/2021.
Past performance is not a reliable indicator of future results. The value of investments and the income from them is not guaranteed and may go down as well as up and investors may not get back the amount originally invested. Portfolio characteristics and holdings are subject to change without notice. The views expressed are those of the author at the date of publication unless otherwise indicated, which are subject to change, and is not investment advice.