Markets have recovered over the past 18 months following the dramatic fall that took place at the outbreak of Covid-19. The question is, what direction are they heading in next?
RLAM's Head of Multi Asset, Trevor Greetham examines several factors within the current environment, including ongoing stimulus measures, labour shortages, inflationary pressures, and positioning in the current business cycle.
Trevor assesses the potential impact for multi asset investors and concludes with his outlook for 2022.
Click on the image below to launch the webinar.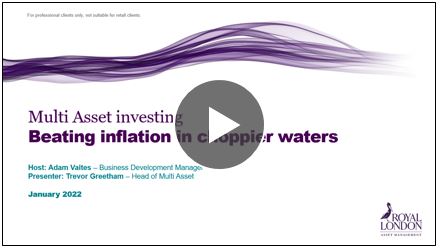 Recorded: 27 January 2022
Duration: 42 minutes
The views expressed are those of the speaker at the date of the event unless otherwise indicated, which are subject to change, and is not investment advice.