What were the defining features of 2021, and following the emergence of the Omicron variant and a recent rise in interest rates has the outlook for 2022 changed? How are different fixed income strategies suited to the prevailing environment?
In this webinar RLAM's Head of Fixed Income, Jonathan Platt, and Ewan McAlpine, Senior Client Portfolio Manager, share their views on these questions and more.
Click on the image below to launch the webinar.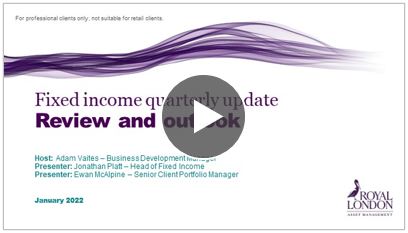 Recorded: 25 January 2022
Duration: 36 minutes
The views expressed are those of the speaker at the date of the event unless otherwise indicated, which are subject to change, and is not investment advice.