There has been quite a lot of chatter that high yield credit spreads are currently looking rich as they are approaching post Global Financial Crisis (GFC) tights. We think credit spreads are cheap and outline why below.
When we compare high yield spreads we are looking at an asset class that has changed materially over the last two decades.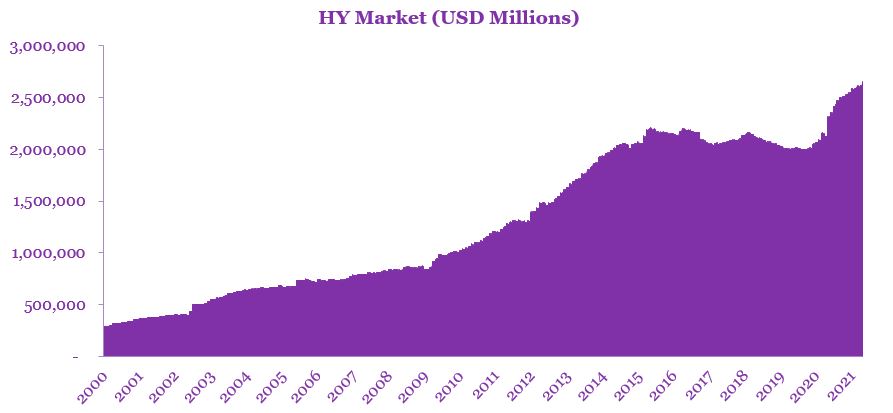 Source: ICE, based on ICE BofA Global High Yield Index
In 2001 the global high yield market was just $363bn in size and had 1466 issues (the European market was $14bn in size with 97 issuers). By 2011 the market had grown to $1.2 trillion and 2494 issues (Europe was now $136bn with 281 issues). Currently the global high yield market is $2.6 trillion with 3,779 issues (Europe is now $318bn with 577 issues). The market is fundamentally different over that period in the following ways:
Credit quality – the market average rating has improved, BBs have moved from being 34% of the market to 59%.
Issue size – the average size is now three times bigger than back in 2001, larger sizes mean better liquidity as there is more information points to price a credit.
Liquidity measures show improved liquidity, 2020 was the first period of high stress where volumes traded actually increased.
The risk-free rate is significantly lower, which means a lower yield market, this means that the default rate is 'structurally' lower. Coupons matter as they determine the amount of cashflow that services interest bills is higher – this does mean that leverage multiples can be higher but it also means default rates should be structurally lower.
From a valuation perspective this means that high yield spreads which traditionally follow both equities and government bond yields will be far more driven by government bond yields from a fundamental perspective from here, equity volatility will still transmit to high yield but we think that transmission should be a function of how the discount rate changes within equity valuations rather than other considerations.
Past performance is not a reliable indicator of future results. The value of investments and the income from them is not guaranteed and may go down as well as up and investors may not get back the amount originally invested. Portfolio characteristics and holdings are subject to change without notice. The views expressed are the author's own and do not constitute investment advice.