Better than expected: UK GDP fell (only) 2.6% in November; consensus was -4.6%M. October GDP was also revised up. That should lead to some revised estimates of Q4 GDP from analysts. Even if output in December didn't grow at all, mechanically Q4 GDP growth would be flat, rather than negative.
Less of an underperformer: After back revisions, the Office for National Statistics (ONS) now estimate that GDP was 6.1% below February levels in October, from 8% before (although the November lockdown took output to 8.5% below February levels).
Confirms lockdown #2 less damaging than lockdown #1: The data confirms that the November lockdown was much less damaging to the economy in the short term, when compared to the March/April lockdown. Lockdown #2 was a much less strict lockdown, with some regional variation. Output was already at a much lower starting point than the March/April lockdown and companies and households were more prepared.
The January lockdown will likely have a bigger impact, it is stricter, includes school closures and is more uniform across the country. With the Covid backdrop worse than in November, there is likely to be more voluntary social distancing too.
Looking at November in more detail, manufacturing production rose 0.7%M (in April, it fell 24.8%M), although industrial production overall fell slightly. Construction output rose 1.9%M. Services output fell 3.4%M (expectations were for a 5.7%M fall). Unsurprisingly, the largest contributor to the fall in services was accommodation and food service activities.
More generally, monthly GDP growth will likely stay bumpy and soft on average until fear of, and risk from, Covid has dramatically reduced. The vaccine roll out still makes this a realistic prospect for the second half of the year.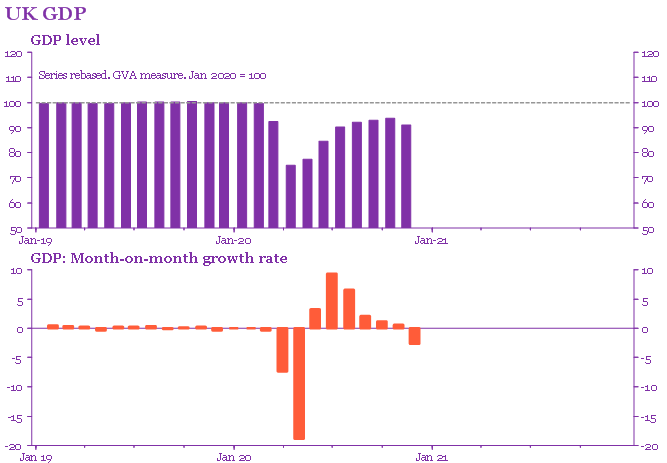 Source: Refinitiv Datastream as at 15/11/2020
The views expressed are the author's own and do not constitute investment advice.