August was a big reminder of the differences between how the corporate economy interacts with the State in China and the West.
Throughout late July and August, the Chinese government unleashed a set of stark regulatory measures putting pressure on a range of industries. As August approached, rumours of drastic government regulation in the online education space saw Chinese internet stocks fall in anticipation of a government announcement. With the announcement of an absolute ban on after-school tutoring and a reclassification of all academic tutoring activities as 'non-profit', China's darling internet stocks took a hit.
The impact of new regulation of Chinese education stocks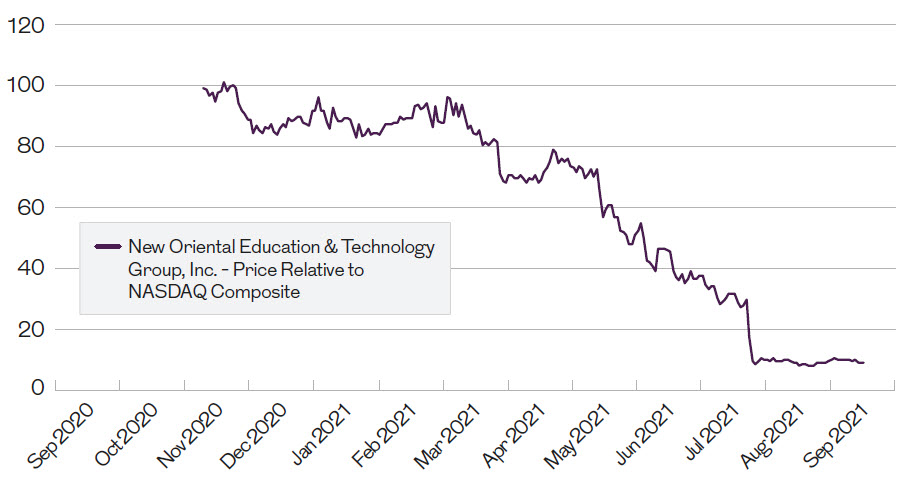 Source: FactSet financial data and analytics 3/9/21
Chinese internet underperformance vs. FANGs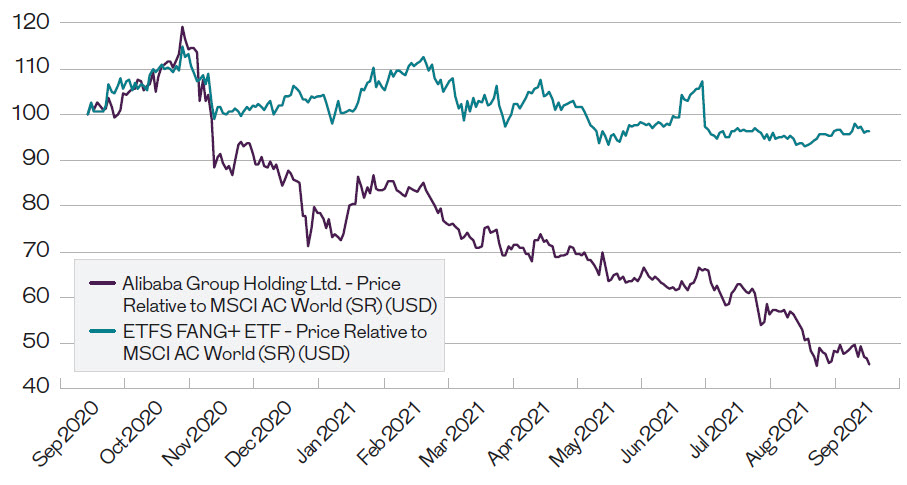 Source: FactSet financial data and analytics 3/9/21
Meanwhile, a new policy limiting under 18s gaming hours to just three hours per week was another example of the Chinese State utilising its influence for societal change. To add to this, following President Xi's speech on mutual prosperity in mid-August 2021, referencing that the wealthier shall contribute more to achieve a more equal society in the so-called 'third-stage of wealth distribution', European Luxury also took a tumble.
European luxury reflects President Xi's comments in mid-August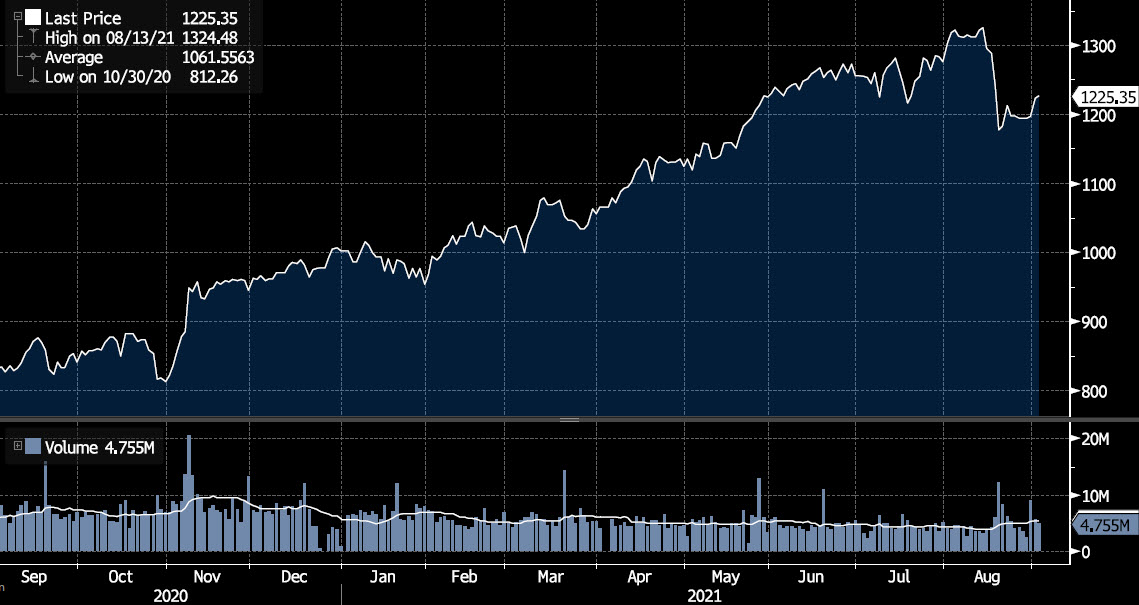 Source: Bloomberg 3/9/21
Cracking down on out-of-hours tutoring to reduce the financial burden of child-raising, limiting gaming hours for minors to curb gaming addiction (the often quoted 'spiritual opium') among children, and proposing greater redistribution of wealth to contribute to a more equal society – are all socially-driven acts led by the Chinese government, with the social outcome seemingly trumping any potential corporate economy obstacles.
The Chinese government actions on big tech companies, education companies, entrepreneurial wealth and gaming industries were a reminder that the Chinese State and political system is a major, if not, the ultimate stakeholder in the Chinese corporate economy. That's not to say tremendous amounts of wealth can't be created for shareholders in China, but for that wealth creation to occur, it needs to be clearly aligned with the interests of its major stakeholders.
In the West, that relationship is more diffuse and generally shareholders are the primary and dominant stakeholder in corporate wealth creation. This has important implications for assessing corporate wealth creation and long-term valuations.
It also has important portfolio construction implications, as this contrasts in the way that the corporate economy interacts with the State leads to potentially irreconcilable long-term tension between the Chinese and international corporate economies.
MSCI China vs. the MSCI World Index (spot the regulatory changes)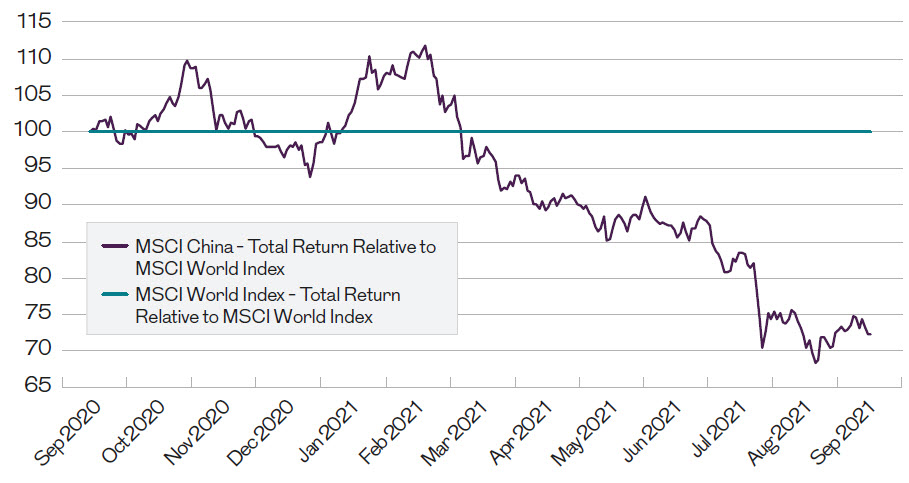 Source: FactSet financial data and analytics 3/9/21
We see tremendous wealth creation in many individual Chinese companies and there are hundreds to potentially invest in. However, an assessment of the sustainability of that wealth creation and its valuation is incomplete without factoring in how it is or isn't aligned with national and political interests in the long term. In our opinion, this is all part of the rich tapestry of global equity investing and certainly debunks Francis Fukuyama's 1991 treatise – that following the end of the Cold War we would see 'the end of history' and the emergence of a universal world order of neo-liberal capitalist democracies.
Past performance is not a reliable indicator of future results. The value of investments and the income from them is not guaranteed and may go down as well as up and investors may not get back the amount originally invested. Portfolio characteristics and holdings are subject to change without notice. The views expressed are those of the author at the date of publication unless otherwise indicated, which are subject to change, and is not investment advice. Unless otherwise noted, the information in this document has been derived from sources believed to be accurate as of September 2021. Information derived from sources other than Royal London Asset Management is believed to be reliable; however, we do not independently verify or guarantee its accuracy or validity.
Bloomberg® is a trademark and service mark of Bloomberg Finance L.P. (collectively with its affiliates, "Bloomberg"). Barclays® is a trademark and service mark of Barclays Bank Plc (collectively with its affiliates, "Barclays"), used under license. Bloomberg or Bloomberg's licensors, including Barclays, own all proprietary rights in the Bloomberg Barclays Indices. Neither Bloomberg nor Barclays approve or endorse this material, or guarantees the accuracy or completeness of any information herein, or makes any warranty, express or implied, as to the results to be obtained therefrom and, to the maximum extent allowed by law, neither shall have any liability or responsibility for injury or damages arising in connection therewith.