Vaccine roll-outs and falling Covid case numbers are spurring optimism about global re-opening and the New Year in markets has begun in a very different tone to last year.
This can be seen in the figure below (Figure 1). Bonds are selling off on fears of tapering from the US Federal Reserve, with bond yields rising to post pandemic high following a year of record-setting low yields.Commodity prices are at thirteen year highs and stock market leadership has transferred away from the narrow selection of mega growth stocks to the beaten up value companies which are set to benefit more as life gets back to normal. In this environment our multi asset funds are performing well, benefitting both from a broadly diversified strategic asset mix and a positive contribution from tactical asset allocation.
Figure 1: Annual GBP returns from major asset classes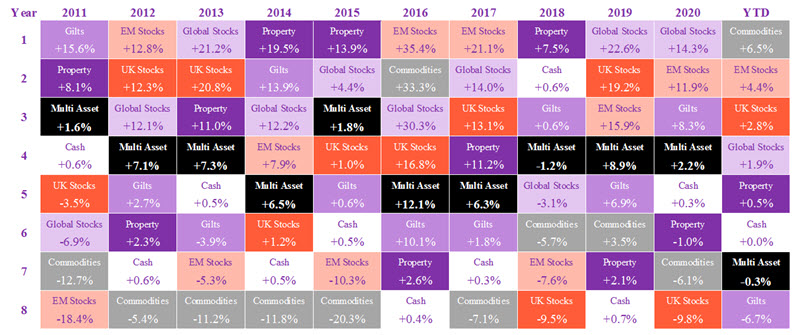 Source: RLAM, DataStream as of 3 March 2021; Global stocks refer to global equities excluding UK. Multi asset returns are based on the benchmark returns of Royal London GMAP Balanced Fund.
Strategic asset allocation
We set the strategic asset mix in the Governed Range and GMAP funds in order to maximise long-run returns after UK inflation for a given level of risk. Last year the funds lagged significantly behind a simple global balanced portfolio blending only global equities and UK investment grade bonds. The deflationary Covid shock saw gilts rally and US technology stocks lead global equities higher. A portfolio relying heavily on these two asset classes performed very strongly. Meanwhile real assets such as commodities fell to new lows as global demand collapsed due to government imposed social distancing measures.
However, the market circumstances of 2020 are unlikely to be repeated in 2021. With recent vaccine progress increasing the optimism of a return to normality, asset performance has rotated. Bond yields have risen rapidly to their highest levels since the pandemic began while interest rate sensitive growth stocks and regions have lagged their value peers. Real assets such as commodities have also rallied, with oil at two year highs. This period has seen the asset mix of our diversified multi asset funds catching up on a lot of the lost ground versus the simple balanced fund alternative.
Figure 2: Benchmark of GMAP 75 vs simple 60/40 benchmark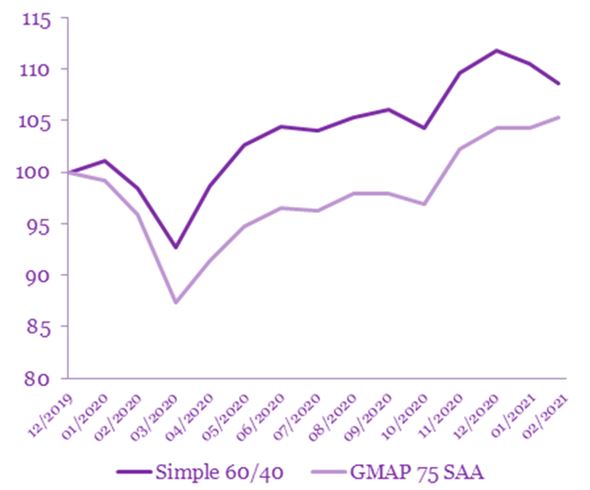 Source: RLAM, DataStream, as at 26 February 2021 Comparison of GMAP Growth strategic mix (prior to the current change) with a fund with 60% in global stocks and 40% in UK investment grade bonds.
Tactical asset allocation
Our multi asset funds are also experiencing a positive period of outperformance from tactical asset allocation (TAA). TAA detracted value in our funds in 2020 Q1 as we were overweight equities and high yield bonds when the pandemic struck. Since then it has been gradually adding back value, with a more significantly addition in February 2021 on the back of overweight positions in value sectors like financials and energy and a significant overweight in commodities versus government bonds. This has seen the cumulative added value from our long-term tactical asset allocation models rally back towards the high watermark set before the Covid-19 crash (Figure 3).
Figure 3: Simulated cumulative return from the tactical overlay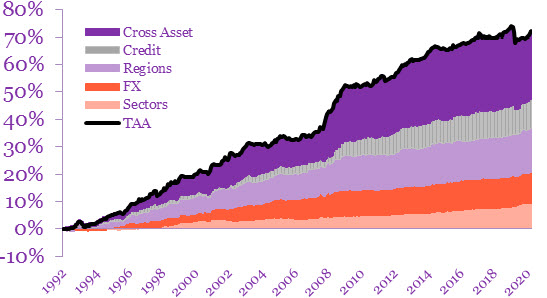 Source: RLAM. For illustrative purposes only. Simulated past performance is not a guide to future performance. The value of investments and the income from them is not guaranteed and may go down as well as up and investors may not get back the amount originally invested. Simulated Portfolio returns are calculated using historical positions based on in-house tactical asset allocation models between December 1992 and February 2021. Returns are quoted gross of fees and transaction costs. Such fees and costs would reduce the returns actually received.
The positive performance of the funds at the beginning of the year has demonstrated the importance of portfolio diversification within strategic asset allocation. As the vaccine roll outs eventually see the world return to normality, we believe our more diversified asset mix will prove sensible. On a tactical basis, we remain overweight risk assets, preferring commodities to bonds and tilting towards value sectors which could continue to outperform their growth peers as bond yields rise and the global economy reopens.

Past performance is not a reliable indicator of future results. The value of investments and the income from them is not guaranteed and may go down as well as up and investors may not get back the amount originally invested. Portfolio characteristics and holdings are subject to change without notice. The views expressed are the author's own and do not constitute investment advice.
The Fund is a sub-fund of Royal London Multi-Asset Funds ICVC, an open-ended investment company with variable capital with segregated liability between sub-funds, incorporated in England and Wales under registered number IC001058. The Company is a non-UCITS retail scheme. The Authorised Corporate Director (ACD) is Royal London Unit Trust Managers Limited, authorised and regulated by the Financial Conduct Authority, with firm reference number 144037. For more information on the fund or the risks of investing, please refer to the Prospectus or Non-UCITS retail scheme Key Investor Information Document (NURS KII Document), available via the relevant Fund Information page on www.rlam.co.uk.