Executive remuneration has always garnered attention. This has largely been for negative reasons as pay packages have continued to grow and the gap widen between executives and their employees.
This was true under normal circumstances, but what happens when the world goes into lockdown, employees are sent home and entire industries fall silent? After the initial emergency steps were taken, what does the new normal look like? Who has responded positively and stuck to their commitments? And who has fallen back into bad habits?
Following the recent publication of our Stewardship and responsible investment 2021 report, Sophie Johnson, Corporate Governance Manager and Jeffrey Ndeti, Corporate Governance Analyst share insights into RLAM's views and approach when engaging. Hosted by Institutional Client Solutions Director, Kate Parker, our speakers highlight examples from the past year, sharing the positives, negatives and the unknowns of executive remuneration during a period of unprecedented change and uncertainty.
Click on the image below to launch the webinar.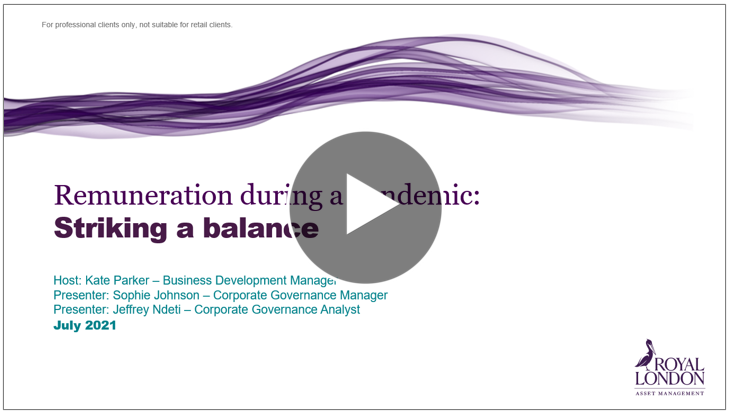 Recorded: 21 July 2021
Duration: 55 minutes