Often termed 'risk free', government bonds are not immune from sudden bouts of turbulence. In Q1 2021, the total return of government bonds was the worst on record, as vaccination progress and reopening optimism saw yields rise from record lows in expectation of a return to normality.
Investors with low risk tolerance have been left to consider how well a pure bond investment meets their needs in what could be a more inflationary post-Covid world. We believe in this environment, a lower risk multi asset fund such as GMAP Defensive, with a 25% strategic allocation to growth-seeking assets such as equities, property and commodities, is more defensive.
Stock markets plunged at the onset of the Covid-19 crisis with Wall Street suffering its worst six week loss since 1929 and oil futures for immediate delivery dropping briefly into negative territory. Government bonds performed extremely strongly as interest rates were slashed and investors flocked into safe havens. Bond yields remained low over the rest of the year despite the recovery in stock markets as easy policy continued. The emergence of a range of effective vaccines towards the end of the year was a game changer. Since then we have seen a strong rotation out of bonds and into cyclical assets such as commodities (Figure 1).
Figure 1: RLAM nominal growth scorecard and commodities vs bonds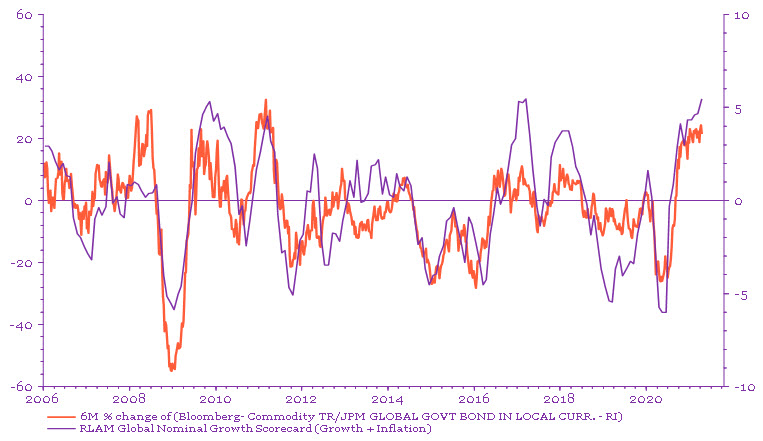 Source: Refinitiv Datastream, RLAM as at 28 April 2021
With growth and inflation expectations rising, the Investment Clock model that guides our asset allocation is in Overheat (Figure 2). This is the stage of the global business cycle in which bonds tend to perform poorly. Commodities tend to do best at these times but stock markets and commercial property can also do well. As a result, a low risk multi asset portfolio that includes small allocations to these asset classes tends to be more resilient than a pure bond investment at these times.
Figure 2: The Investment Clock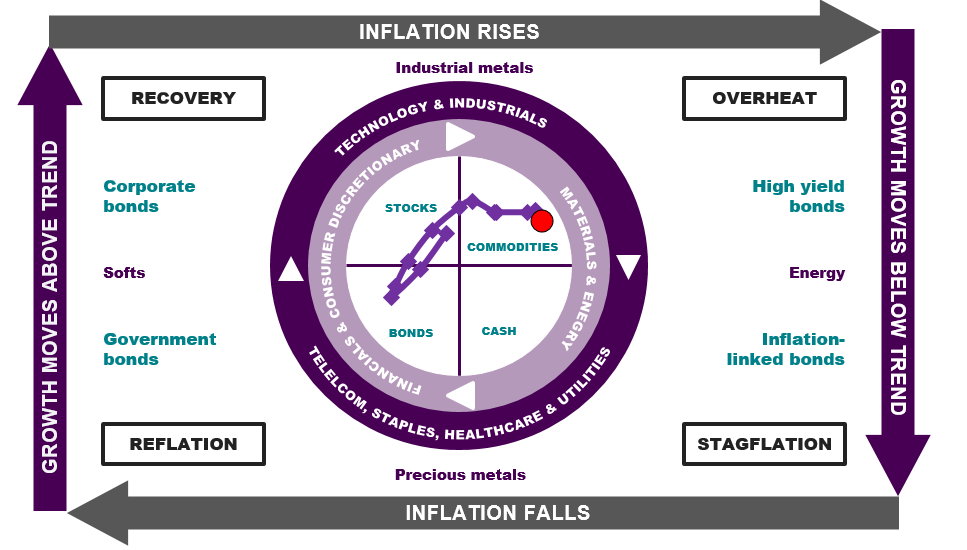 Source: RLAM. For illustrative purposes only. Trails shows monthly readings based on global growth and inflation indicators. Orange dot is the current reading.
Diversification is especially important right now, as the coupon income from UK government bonds is extremely low and offers almost no cushion against capital losses when yields rise. What used to be termed risk-free return is nowadays better described as return-free risk. In Q1 2021, for example, the GMAP Defensive asset mix posted a small gain of around 1%, while ten-year gilts suffered a loss of almost 6% (Figure 3).
Figure 3: Sterling-based annual returns from major asset classes 2011-2021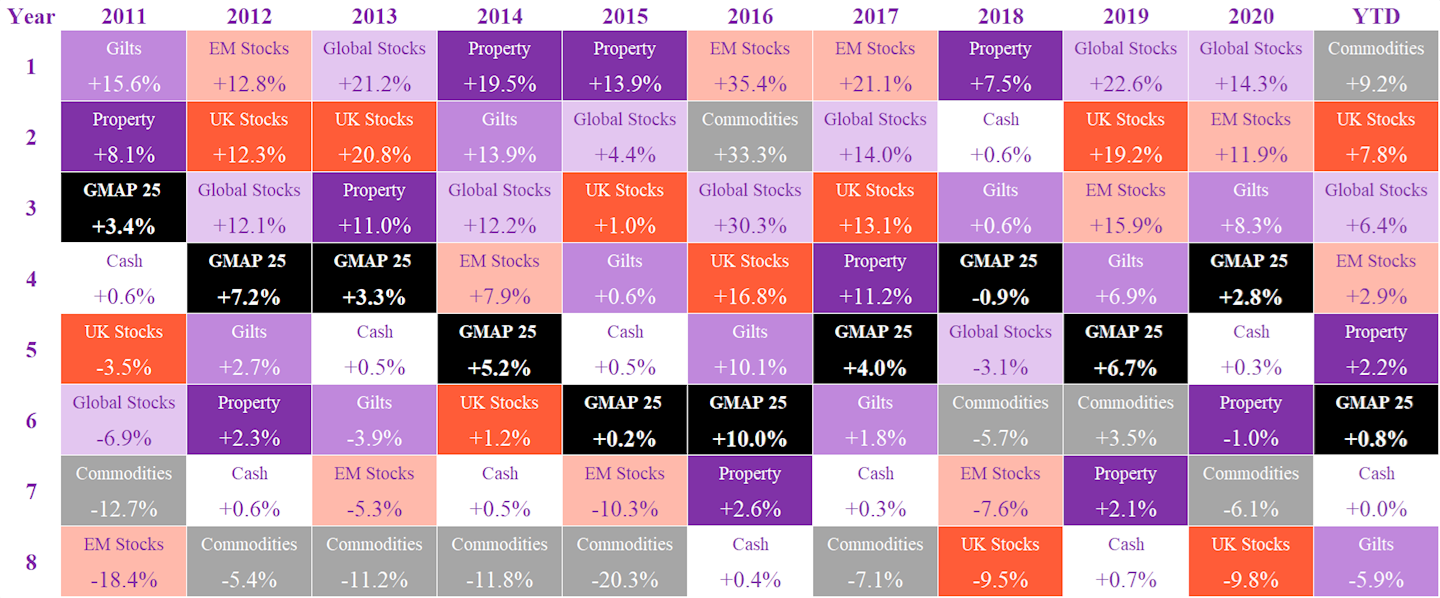 Source: RLAM, DataStream as of 21 April 2021; Property Return as of March 2021. Global stocks refer to global equities excluding UK. Multi Asset returns shown as 'GMAP 25' are based on the benchmark returns of Royal London GMAP Defensive Fund.
This pattern is repeated looking at returns back to 1999. Over the period as a whole, our lower risk multi asset mix posted similar returns to the ten year gilt index. However, in contrast to gilts, it still posted a small positive average return in months in which gilt yields rose (Figure 4).
Figure 4: A low risk multi asset mix is more defensive than bonds when yields are rising
Source: RLAM, DataStream as of April 2021. Returns are average total monthly returns over monthly periods in which interest rates, defined as 10-year gilt yields, rose or fell.
As economies continue to reopen and the world begins the gradual return to normality, we believe yields will continue to move higher and further pain will be felt in the government bond markets. For investors concerned about capital losses, we believe a diversified low risk multi asset fund may be more appropriate at this time.
For professional clients only, not suitable for retail investors. Past performance is not a reliable indicator of future results. The value of investments and the income from them is not guaranteed and may go down as well as up and investors may not get back the amount originally invested. Portfolio characteristics and holdings are subject to change without notice. The views expressed are the author's own and do not constitute investment advice.
The Fund is a sub-fund of Royal London Multi-Asset Funds ICVC, an open-ended investment company with variable capital with segregated liability between sub-funds, incorporated in England and Wales under registered number IC001058. The Company is a non-UCITS retail scheme. The Authorised Corporate Director (ACD) is Royal London Unit Trust Managers Limited, authorised and regulated by the Financial Conduct Authority, with firm reference number 144037. For more information on the fund or the risks of investing, please refer to the Prospectus or Non-UCITS retail scheme Key Investor Information Document (NURS KII Document), available via the relevant Fund Information page on www.rlam.co.uk