Head of Fixed Income, Jonathan Platt and Senior Client Portfolio Manager, Ewan McAlpine provide an overview of fixed income markets in Q1 2021 and an outlook for the year ahead.
Jonathan and Ewan cover the rise in yields, particularly in Q1, the shape of the yield curve and the direction in which yields may head to next. They discuss the performance drivers in bond markets and the importance of income.
Finally, they conclude with their thoughts on a recovery and the possibility of inflationary pressure and interest rate rises further down the line.
Click on the image below to launch the quarterly update.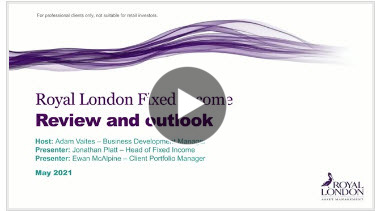 Recorded: 4 May 2021
Duration: 44 minutes