2021 looks set to be a year of global economic recovery following the significant Coronavirus hit last year. Vaccines mean the world economy can hope to open up without future lockdowns.
Our Investment Clock has moved back into its 'Overheat' zone, suggesting robust growth with some inflation but no imminent pressure for interest rate increases. We believe this macro environment is positive for equities and commodities but less so for government bonds.
The Investment Clock
Tracking the Coronavirus crash and recovery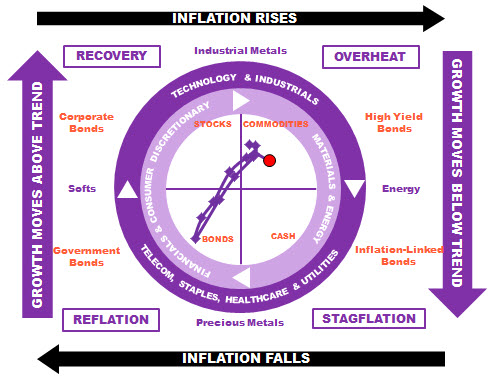 Source: RLAM. For illustrative purposes only. Trail shows readings based on global growth and inflation indicators. Red dot is the current reading. January 2021.
Given recovering global growth with vaccines is making reopening sustainable
We have a positive position in stocks as we believe global growth is set to be strong this year, leading to better earnings and profits;
We are overweight high yield bonds which will benefit from expected better corporate cashflows;
We are modestly overweight commodities; the dollar has been weak and data in China is supportive of a V-shaped recovery in demand for industrial metals;
We continue to tilt portfolios towards emerging market equities and technology, positions we held before the crisis which continue to perform well given long term growth drivers.
Current multi asset positioning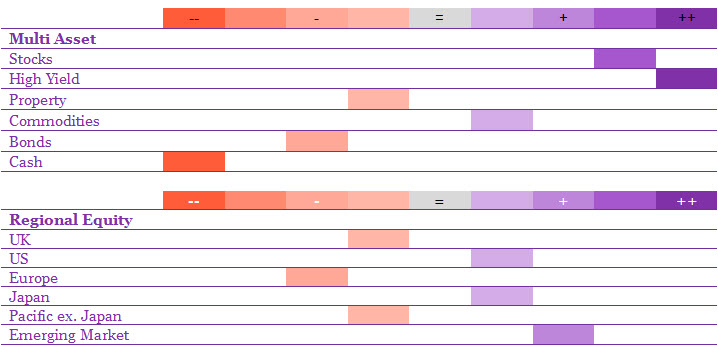 Weightings may vary according to tactical asset allocation and we may invest outside of indicated asset classes as the manager sees fit. Source: RLAM. Tactical positions as of February 2021.
For more detail, please see our February 2021 Investment Clock report here.
Past performance is not a reliable indicator of future results. The value of investments and the income from them is not guaranteed and may go down as well as up and investors may not get back the amount originally invested. Portfolio characteristics and holdings are subject to change without notice. The views expressed are the author's own and do not constitute investment advice.