What were the major factors impacting sustainable investing towards the end of 2021? RLAM's Head of Sustainable Investments, Mike Fox and Fund Manager, George Crowdy provide a review of the fourth quarter.
Mike and George discuss asset allocation changes made in response to the market environment, and outline the in-depth investment process that they believe is a prerequisite for successful long-term sustainable investing.
Finally, they deliver an outlook on both equity and fixed income markets.
Click on the image below to launch the webinar.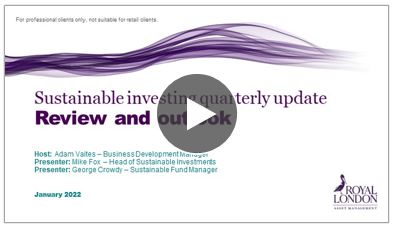 Recorded: 26 January 2022
Duration: 34 minutes
The views expressed are those of the speaker at the date of the event unless otherwise indicated, which are subject to change, and is not investment advice.