The current market environment is relatively unique in the history of sustainable investing.
Rising interest rates have changed the valuation of longer-duration, future looking, growth stocks. And the Russian invasion of Ukraine and retaliatory sanctions have pushed up the price of environmentally-damaging carbon-based fuels.
Head of Sustainable Investments, Mike Fox explains the influence of the market environment on RLAM's sustainable funds. Mike outlines our long-term approach to sustainable investing and gives an outlook for both equity and fixed income markets.
Click on the image below to launch the webinar.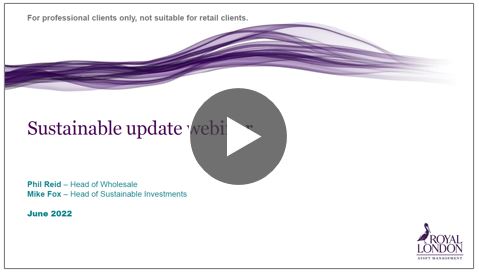 Recorded: 30 June 2022
Duration: 49 minutes
The views expressed are those of the speaker at the date of the event unless otherwise indicated, which are subject to change, and is not investment advice.