UK Q2 GDP grew a very strong 4.8%Q non-annualised – exactly in line with consensus and a larger increase than seen in the likes of Germany or the US.
Consumer spending was stronger than expected, while fixed investment and net exports were weaker. Overall, the bounce in the economy in Q2 marks a strong recovery from the Q1 lockdowns and moves the UK economy a big step closer to post-pandemic normalisation.
As of June, the level of GDP was 'only' 2.2% below pre-pandemic levels. Hence, closing that gap over the second half of the year looks very do-able.
Q2 saw the biggest contributors to growth from wholesale/retail, accommodation and food service, and education sectors. In other words, from sectors associated with re-opening after Q1's lockdown.
Compared to other countries, the UK has had a lot of ground to make up and the ONS continues to warn that different approaches to measuring health and education output hinder international comparability.
Looking at the monthly data, driven by services, June GDP was a touch stronger than expected at 1.0%M (but May revised down to 0.6%M), picking up pace again and likely partly reflecting the mid-May easing in social distancing restrictions. Although June GDP was a bit stronger than expected, it is worth noting that although services was the biggest contributor to growth, the biggest contributor to services output was actually health activities – with the ONS specifically mentioning an increase in visits to GPs… not an obviously sustainable source of growth (or something that you'd want to be a sustained source of growth).
Question marks remain around the likely pace of growth in Q3. It is likely to be slower than in Q2, given so much of the reopening happened in Q2. But it isn't clear yet how far the still relatively high Covid numbers will hold back the recovery – either through the so-called 'ping-demic' or people voluntarily becoming more cautious in their social interactions. There is also uncertainty around how the economy will react as the furlough scheme is unwound and how far supply shortages will continue to bite in manufacturing. The performance of the vaccine programme helps though, and Google mobility suggests that, if anything, consumer related activity picked up over July through to August.
The Q2 numbers are unlikely to have significant new implications for monetary policy. As of the August meeting, the Monetary Policy Committee (MPC) were already pencilling in a 5% increase in GDP in Q2. The Bank of England (BOE) still look on track to end their QE asset purchase programme at the end of the year. A rate rise looks a reasonable probability next year, but my forecasts still pencil in early 2023 for now. Much, however, will depend on how the labour market responds in coming months to the end of the furlough scheme.
UK GDP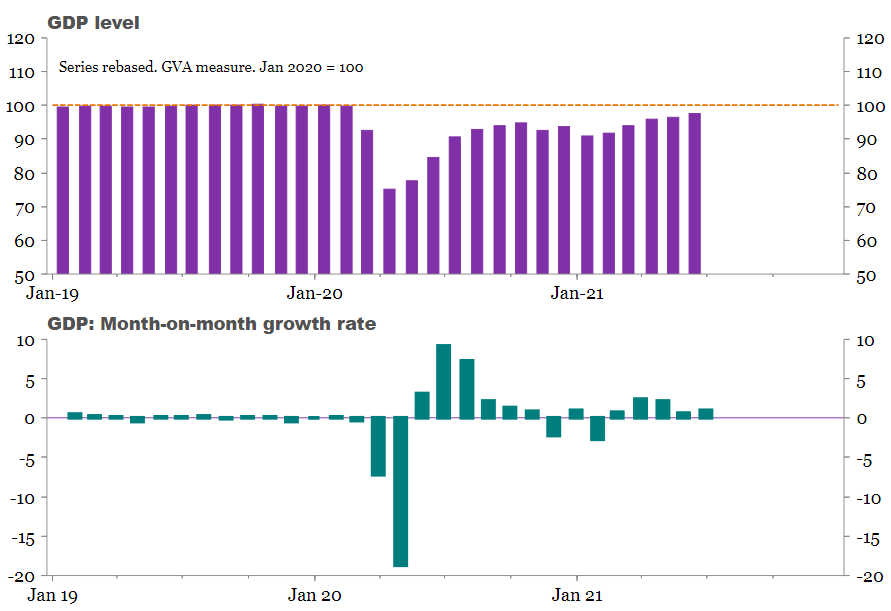 Source: Refinitiv Datastream as at 15/06/2021
Past performance is not a reliable indicator of future results. The value of investments and the income from them is not guaranteed and may go down as well as up and investors may not get back the amount originally invested. Portfolio characteristics and holdings are subject to change without notice. The views expressed are the author's own and do not constitute investment advice.