Looking at high yield credit curves is not always simple, as most high yield bonds are callable and so extension risk is something which means that the curve is always flatter than it should be.
In addition inefficiencies still abound in an asset class governed by two rating agencies, leading to a much flatter curve than the risk represents.

Figure 1: Yield curve remains flat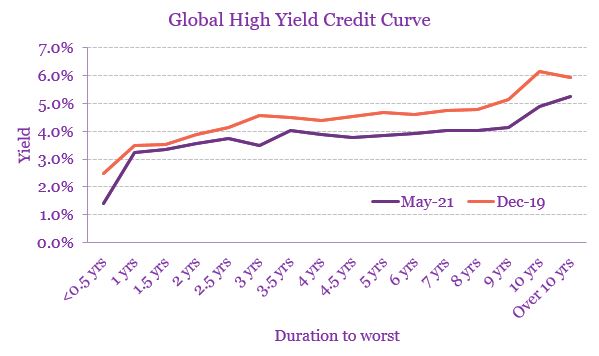 Figure 2: Spread curve shows front end premium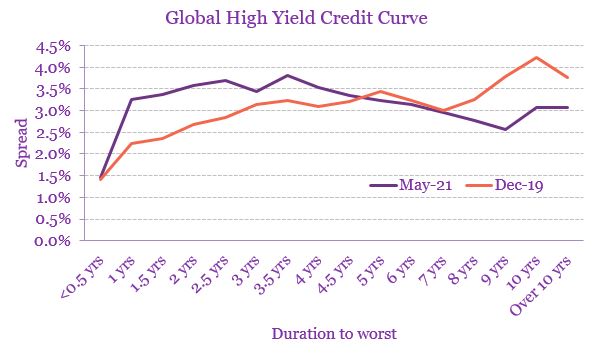 Source: ICE. Charts use ICE BoAML BB-B Global Non-Financial HY Constrained Index (hedged to Sterling) to represent global high yield market. Charts show yield and spread curves in duration terms as at end December 2019 and end May 2021.
The current period is striking compared to historical periods as default expectations are falling precipitously and overall market spreads have contracted materially and yet the very front part of the market is giving a huge premium.
We believe this is due to the following reasons:
Huge new issuance volumes maintaining market duration leading to market participants selling shorter duration bonds to make room for new issues.
A rapid decline in overall yields increasing the amount of bonds trading to calls.
We think these two factors will naturally tail off over the next 12 months and then curves will normalise.
Past performance is not a reliable indicator of future results. The value of investments and the income from them is not guaranteed and may go down as well as up and investors may not get back the amount originally invested. Portfolio characteristics and holdings are subject to change without notice. The views expressed are the author's own and do not constitute investment advice.