As 'sustainable' investing gains ever more traction in fixed income markets, asset managers appear to be engaged in an arms race to demonstrate their ESG credentials to asset owners.
Signs are emerging that credit investors may be favouring convenience over credibility, such as blindly buying bonds with ESG labels or relying on incomplete third party data. Shalin Shah, manager of RLAM's range of Sustainable credit funds, alongside Senior Credit Analyst, Matthew Franklin, demonstrates how a more bespoke and fixed income specific approach to ESG integration can help capture inefficiencies present in credit markets, with no compromise on either returns or sustainability.
Building on RLAM's long established heritage in Sustainable Investing, they also talk about the real opportunity to provide capital to critical social and environmental sectors that are largely inaccessible to investors across other asset classes.
Click on the image below to launch the webinar.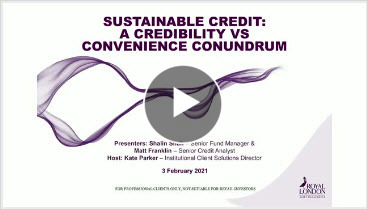 Recorded: 3 February 2021
Duration: 44 minutes