Having experienced one of the most challenging investment environments in living memory, this webinar explores how the Covid-19 pandemic has impacted global credit markets and led to an unprecedented policy response from central banks.
Through the lens of RLAM's Multi-Asset Credit Fund, Senior Fund Manager Khuram Sharih reflects on recent events and the action the investment team took to protect the portfolio from the worst of the fallout and to position it to benefit from the subsequent recovery. Khuram shares his views on the outlook for the various credit sub asset classes, detailing why now more than ever, stable income provision is of upmost importance for investors.
Click on the image below to launch the webinar.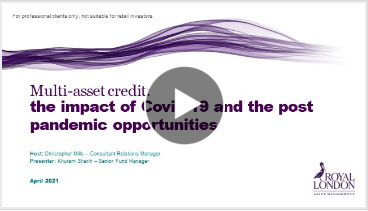 Recorded: 28 April 2021
Duration: 32 minutes