There is a huge difference between investment grade and high yield that is often not represented well. Investment grade is a spread market, meaning trading a bond involves being quoted the spread difference.
High yield is a yield market, where trading a bond involves contrasting the yield (and taking account of the cash price). This major difference of spreads versus yields is poorly represented when commentators discuss valuations.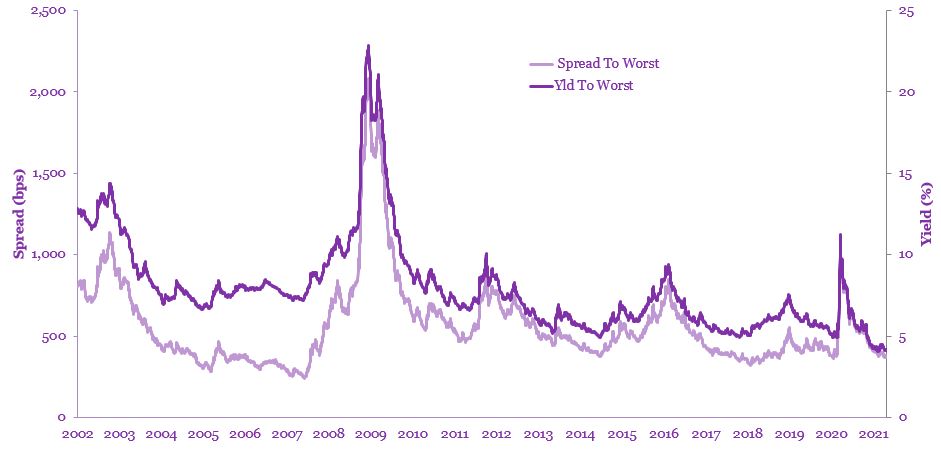 Source: ICE, based on ICE BofA Global High Yield Index
The weaker a credit, the more of its cashflow is diverted to servicing its debt, so the absolute yield of weak credit has a relationship to its ability to survive. It might sound obvious, but default rates are impacted by the cash coupon on its debt. Yet most commentators use spreads for comparison purposes to evaluate relative valuations. Whilst such an approach makes sense when comparing higher quality credits, they make little sense when comparing weaker credits.
Recently CCC spreads hit 613bps, which is the lowest they have been since 2007 which some are quoting as a 'breach of value'. Back in 2007 they hit 497bps but the yield to worst was 9.5% in 2007 versus a current 6.5% and even more interestingly the average coupon in 2007 was 9.3% versus a current 7.6%. A few points jump out from the above data:
The market differential is 120bps currently from the coupon being paid by the weakest high yield cohort compared to its refinancing rate.
There is already a 170bps differential in funding costs before any further refinancing takes place.
If refinancing continues to progress, the coupon differential maybe as high as 290bps or almost a third of the absolute level.
Defaults are always driven by ability and willingness to service debt. We think people should be paying attention to the yields not the spreads for the weakest cohort, the yields indicate that ability to service debt is only likely to increase over the next months as the gap between yields and average coupons closes reducing the amount of cash needed to service debts.
Past performance is not a reliable indicator of future results. The value of investments and the income from them is not guaranteed and may go down as well as up and investors may not get back the amount originally invested. Portfolio characteristics and holdings are subject to change without notice. The views expressed are the author's own and do not constitute investment advice.