UK stocks have underperformed global indices over recent years. This trend was extended last year, as UK stocks suffered 10% annual losses compared to gains of over 16% in the growth heavy US indices.
Despite a period of better performance following vaccine announcements, UK markets still look very cheap on a regional comparison (Figure 1).
Figure 1: UK and Europe looking relatively cheap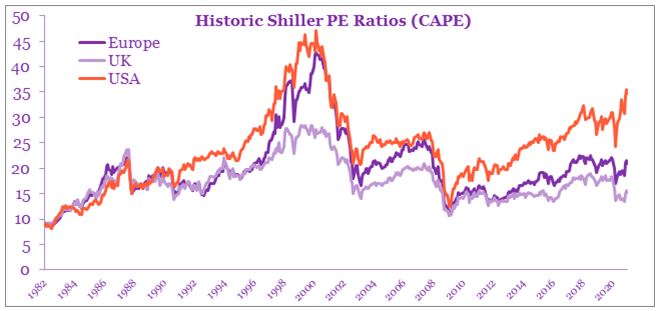 Source: Barclays 31 January 2021. Cyclically Adjusted Price Earnings (CAPE) ratios are a long term measure of value.
Major differences in sector mix are a factor in the cheaper valuation of UK equities, with the US containing a much larger allocation to the richly valued technology sector (29% vs 1% in the UK index). The UK, in contrast, is heavily weighted towards financials, resources and consumer goods which have suffered disproportionately during the lockdown.
However, sector weightings only explain around half of the difference between valuations. The UK market trades on a one year forward multiple of around 14x versus 22x for the US market. Reweighting UK sectors using US weights only gets you to 18x (Figure 2).
This is because US large cap stocks are often 'growthier' than their UK counterparts in the same sector. For example Tesla on 206x earnings is in the same consumer goods sector as Barratt Developments on 10x. In fact, barring telecoms, every sector is more expensive in the US.
There are also UK-specific reasons for a discount. The UK has seen a much larger economic contraction due to social distancing than the more widely dispersed US economy and Brexit is expected to knock off about 5% of UK GDP over the next 15 years.
We are currently broadly neutral on UK equities on a tactical basis but there may be a good case for UK outperformance later this year as the vaccination roll out continues, the world economy re-opens and beaten up value sectors rally. If bond yields rise at this time, as seems likely, we could also see lower ratings applied to the growth stocks so heavily weighted in the US market.
Figure 2: PE multiples for UK and US equity sectors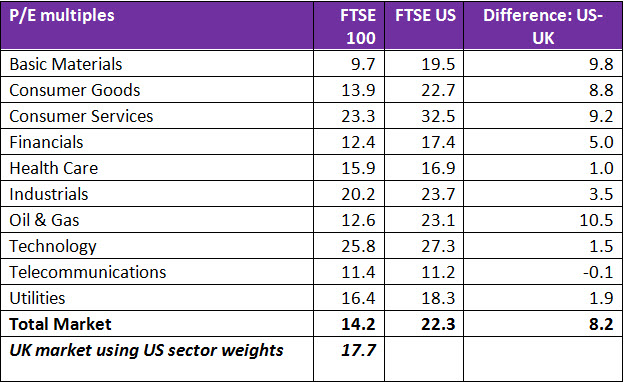 Source: Forward Price to Earnings Ratio, using next twelve month earnings. Factset. December 2020.
Past performance is not a reliable indicator of future results. The value of investments and the income from them is not guaranteed and may go down as well as up and investors may not get back the amount originally invested. Portfolio characteristics and holdings are subject to change without notice. The views expressed are the author's own and do not constitute investment advice.