During 2020, the world has stepped-up its mitigation ambition while fighting back the COVID 19 pandemic and its economic consequences. In our latest climate webinar, we explained these trends and how RLAM has also bolstered its climate action through our active role in collaborative initiatives such as CA100+(1) and individually in our commitment to be responsible investors.
During 2020, we have been a strong investor voice in advocating for sound climate policies and we have been particularly active in our engagement in the energy utilities' sector. We also formally supported TCFD(2) and this week we have published our standalone Climate Change Policy.
In our policy we established a robust governance structure and risk monitoring and mitigation strategy and we have developed seven concrete commitments:
Integrating climate factors and stress-testing in our investments.
Interrogating and improving the quality of climate data.
Empowering investment teams to integrate material climate risks into decision-making.
Designing climate-aware products and in alignment with the Paris Agreement goals.
Use our voting rights and engagement to improve companies' management of climate risk.
Advocate for policies that avoid unnecessary climate impact.
Encourage dialogue with our clients about climate change risks.
This blog concludes a very busy month and provides an update on our recent actions towards commitments number 5 and 6: engagement and advocacy. We will be issuing subsequent updates on all of our climate action and climate integration, including through our first TCFD report to be published with our financial statements in early 2021.
Why do we focus our engagement and advocacy efforts on the energy utilities sector?
To monitor and manage our exposure to carbon-intensive industries, we carried out our assessment of holdings at both the asset and the portfolio level using the weighted average carbon intensity (WACI)(3). We found that most of the top contributors to RLAM Equity and Fixed Income portfolios' carbon intensity are energy utilities. The skew towards the sector reflects how carbon intensive these companies currently are and also, RLAM's exposure to the industry. While the energy utility companies contribute to the emissions and risks of investors portfolios', these companies have proven feasible pathways to Net Zero emissions by 2050 and will be pivotal in the decarbonisation of the economy through electrification.
Electricity and heat production are the largest sector emitters of greenhouse gases accounting for around 38% of emissions, followed by transport, industry and buildings (IEA(4), 2020). However, the sector is undergoing rapid change, already contributing to decarbonisation, especially in Europe. In scenarios that achieve 1.5 ºC warming, the power sector is the first to decarbonise. Power also enables the decarbonisation of other sectors, through the electrification of transport heat and some industrial activity.
The scale of the sector's challenge: electricity sector decarbonisation (left) and scaling of electricity demand (right) in three IPCC(5) 1.5ºC representative scenarios.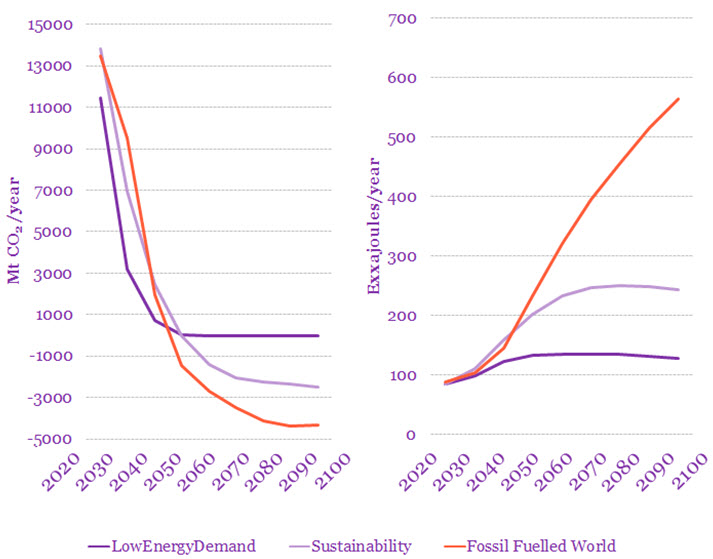 Source: IAMC 1.5°C Scenario Explorer and Data hosted by IIASA. The Low Energy Demand showcases a smaller-scale and efficient energy system achieved through social, business and technological innovations up to 2050. Carbon dioxide removal is limited and only takes place through afforestation. The Sustainability scenario is achieved through improved energy intensity, international cooperation, shifts towards sustainable consumption patterns and low carbon technology innovation. It includes a limited degree of bioenergy carbon capture and storage (BECCS) as a carbon dioxide removal technology. Fossil fuelled development scenario is also compliant with 1.5 degrees of warming, but sees continued adoption of carbon-intensive lifestyles, particularly in the transport and food systems, to stay within the limits of the carbon budget large scale deployment of BECCS is required.
Update commitment 5: RLAM 2020 climate engagement in the Power Utility sector
Thus far this year, we engaged 97 times on Climate Change and around 30% of engagements were with energy utilities. Other sectors where we engaged extensively include transport and diversified mining, but our exposure to the power sector supports our strategic prioritisation of our efforts. These are some of the activities we focused on to influence a rapid decarbonisation of the sector:
We co-led the Institutional Investors' Group on Climate Change (IIGCC) power utility sector working group, which drives forward CA100+ engagements for thirteen European utility companies.
We partnered with the Friends Provident Foundation to engage with the seven largest utilities in the United Kingdom on social and climate issues. We scrutinised the companies' assumptions and the alignment of their business models, infrastructure and investment pipeline to Net Zero(6). We supported their inclusion of Just Transition principles into their decarbonisation plans.
SSE embraced our Just Transition engagement. We worked with the company on delivering a pioneering Just Transition strategy published this November along with our sector expectations.
Along with our colleagues at IIGCC, we co-authored a paper: Accelerating the Transition to Net Zero Emissions in the Power Sector. We mapped key enablers and barriers for the sectors' decarbonisation and scaling-up efforts that sets a plan of action for investors and companies to partner in accelerating the transition.
We presented in two Race to Zero Dialogues as part of the UK governments' UNFCCC COP26(7) presidency efforts to ratchet-up climate ambitions:
Race to Zero Dialogues: Youth and Transport
Race to Zero Dialogues: Energy Day
We reached out to the utility sector regulator in the UK, OFGEM(8), to express concern and requested a revision of their RIIO-2 Draft Determinations for Transmission(9), Gas Distribution and Electricity System Operators. We urged the regulator to reconsider the achievable level of returns set which are sufficient to attract the investment required to achieve Net Zero.
Update commitment 6: RLAM 2020 action on Climate Advocacy
This year we also advocated for sound policies among investee companies to ensure an orderly and fair transition to Net Zero takes place for the benefit of our clients.
Looking ahead to 2021, RLAM will continue to ratchet-up its engagement activity on climate transition and physical risk, supporting the UK's UNFCCC COP26 presidency efforts to increase the climate ambitions of corporate players. We will do so through our active role in CA100+ and IIGCC, focusing on the largest emitters. We will also continue our engagement with climate laggards, requesting further disclosure; and with climate leaders, such as the companies within our Sustainable Fund range, to ensure the quality and credibility of their Net Zero commitments. Finally, we will continue to focus efforts on the utilities sector, where we will encourage the adoption of Just Transition strategy by the COP26 in 2021.
The views expressed are the author's own and do not constitute investment advice.
(2) Taskforce on Climate-related Financial Disclosures
(3) Sum product of the portfolio weights and the companies' scope 1&2 CO2 intensity (total emissions/ M total revenues)
(4) International Energy Agency
(5) Intergovernmental Panel on Climate Change
(7) United Nations Framework Convention on Climate Change - Conference of the Parties
(8) Office of Gas and Electricity Markets
(9) Revenue Incentives Innovation and Outputs Draft Determinations for Transmission