The UK left the EU in January 2020 but Brexit continues to be a source of risk for investors. With only three weeks left of the transition period we still do not know if the UK will end up trading on World Trade Organisation terms with tariffs on a wide range of goods.
We are hopeful both sides will compromise this weekend, but it would be rash to base an investment strategy on the basis of one outcome or the other. We believe our broad asset mix will be resilient in either case.
The pound is likely to be particularly sensitive to the outcome of the Brexit negotiations as the trading relationship agreed will impact economic growth. UK Treasury estimates from November 2018 suggest the Canada-style Free Trade Agreement (FTA) that Boris Johnson seeks would knock about 5% off the size of the UK economy by 2033, while a No Deal outcome would knock off 8%. Both figures are expressed relative to the base line of staying in the EU (figure 1). These are not small numbers. By way of comparison, economists currently estimate the permanent loss of output associated with the Covid-19 crisis to be around 2%. Covid is much bigger than Brexit in the near term but much of the lost output is expected to come back rapidly as social distancing measures are reduced and removed.
Figure 1: Economic impact assessments for Brexit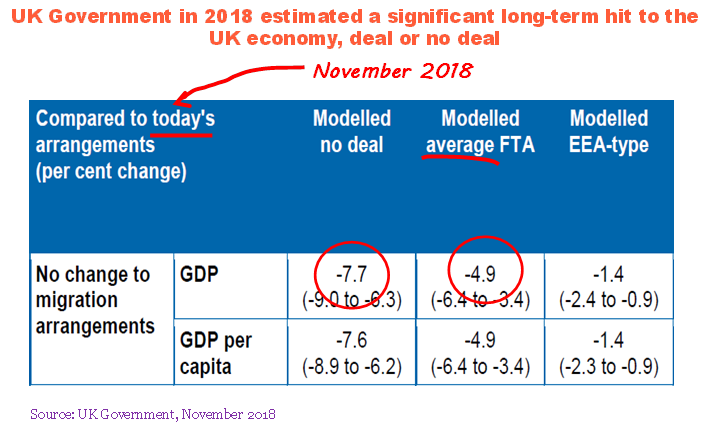 Source: UK Government, November 2018
Sterling fell around 10% after the EU referendum in 2016 and has since been trading in a fairly narrow ten cent range versus the euro (figure 2). In a No Deal Brexit we would expect the pound to break to the downside. Global equities could also sell off given the bullish investor sentiment backdrop. The S&P dropped 5% on the referendum result, although it quickly regained lost ground.
Figure 2: Sterling versus the dollar and euro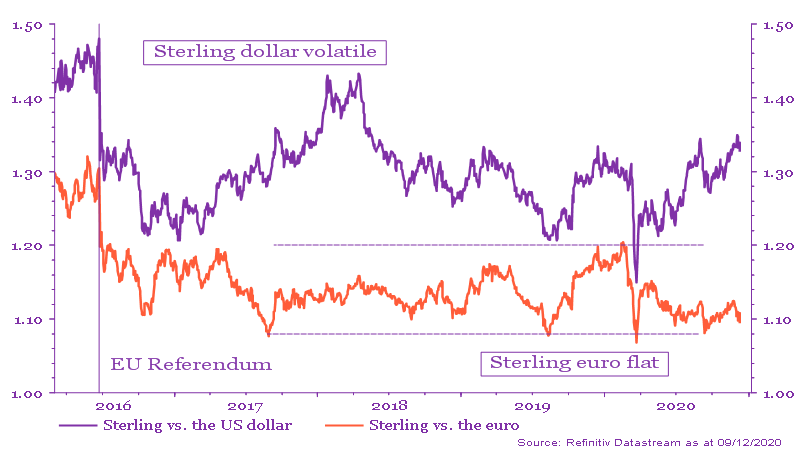 Source: Refinitive Datastream as at 09/12/2020
We have made sure our tactical asset allocation positions are not particularly sensitive to the outcome of the negotiations (figure 3). We are slightly underweight sterling and within our equity exposure we are more or less neutral on the UK and European markets, the ones with most to lose or gain from a deal. At the broad asset class level we are moderately overweight equities but would view a Brexit-related sell off as an opportunity to add further, given the good prospects for post-Covid recovery in 2021.
Figure 3: Current tactical positioning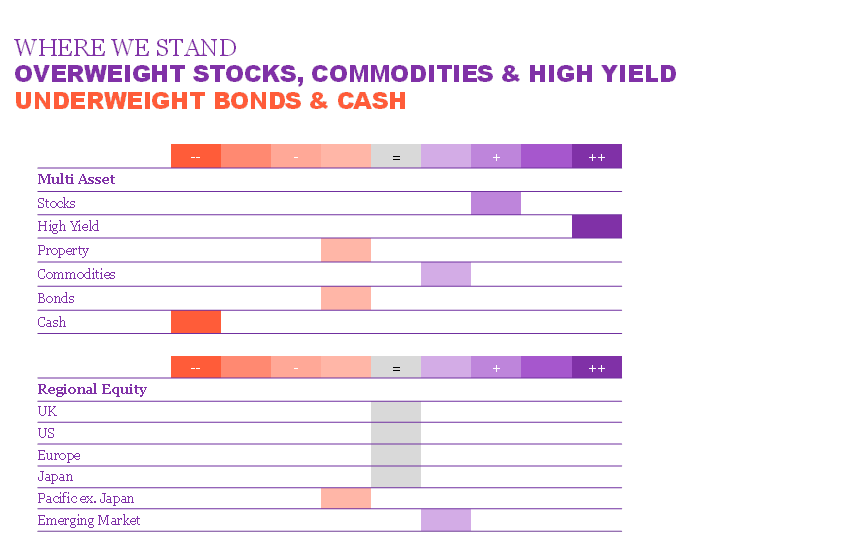 Weightings may vary according to tactical asset allocation and the Fund may invest outside of indicated asset classes as the manager sees fit.
Stepping back to the overall asset mix, we believe broad diversification should make Royal London's Governed Portfolios and Global Multi Asset Portfolios (GMAPs) resilient to either outcome. Commercial property and domestically-focused stocks could see further mark downs in the event of No Deal but large cap UK equities have significant overseas earnings and would most likely rise in value, as they did after the 2016 referendum. We'd also expect commodities and overseas equities to rise in sterling terms, beyond any knee-jerk negative reaction. There could be a further benefit in this scenario if UK gilts in the portfolios rise in the face of extended Bank of England stimulus, though yields are already very low.
The opposite effects would most likely hold true if there is a Brexit trade deal. A stronger pound would hamper overseas exposures and bond yields might rise but improved economic growth prospects would boost domestic equities and property.
Ultimately the path the global economy and policy takes out of the Covid crisis will matter much more for investors in 2021 than Brexit. Here the vaccine provides light at the end of the tunnel and we are optimistic, particularly on the beaten up risk assets that had most to lose from the lockdowns.
Past performance is not a reliable indicator of future results. The views expressed are the author's own and do not constitute investment advice. Portfolio characteristics and holdings are subject to change without notice. This does not constitute an investment recommendation. For information purposes only, methodology available on request.